Induction Cooktops are a Family Friendly Option for Kitchen Design
by Guest on Mar 29, 2011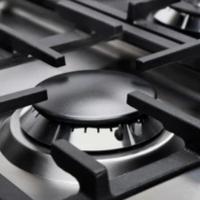 All cooktops—whether gas cooktops, electric cooktops, or induction cooktops—enable you to make your kitchen a safer, more family-friendly place for young children. One primary reason is that cooktops do not have an oven directly attached to them allowing you to put a wall oven in a higher location rather than underneath where children can pull the door open. Cooktops give you the freedom to do this.
Another reason that cooktops may be family-friendly is that cooktops can be installed on a center island instead of against a wall like freestanding ranges. So rather than having your back turned to your kids, cooktops permit you to make dinner and keep an eye on them in the backyard, converse with them while they are in the great room, or help them with their homework while they are sitting at the bar right in front of you. In other words: cooktops make multi-tasking a breeze!
All cooktops are a family-friendly option for kitchen design. Induction cooktops, however, can be a very safe option. Cooktops that use induction technology may be unfamiliar to you as they are relatively new to the market. Induction cooktops use electromagnetic energy to heat certain types of pots and pans. Because the heat is transferred directly to the cookware, induction cooktops do not have any hot elements or flames that may cause burns. In fact, you can put your hand directly on induction cooktops and they won't even feel warm. These cooktops make for a safer, cooler kitchen.
Many cooktops have control locks that prevent children from unintentionally turning the appliance on. Even if they somehow manage to turn the stove on, induction cooktops are less likely to burn someone than traditional cooktops because no heat will be produced without a pan on the burner. Some induction cooktops also have hot surface indicator lights that let you know when the cooking surface is active. Other models of induction cooktops also have a pan presence sensor that automatically shuts off the burner element on the cooktops if it is left on by mistake.
Kitchen fires are also much less of a concern with induction cooktops. If a pot-holder or plastic spoon is accidentally dropped on an active cooking element it will not smolder or melt. On induction cooktops, if something boils over or grease splatters, it will not hit a hot surface and ignite. Additionally, some induction cooktops come equipped with a safety feature that automatically detects something that has boiled over or if a pan is overheating and turns the heating element of the cooktops unit off until the mess is cleaned up or the pan is safely removed.
As if the safety features weren't enough, induction cooktops offer yet another benefit: efficiency. Your water will boil faster. Meals will cook quicker. And cleaning up induction cooktops will be a snap because all induction cooktops have smooth, ceramic surfaces that are easily wiped clean. Some cooktops even have a small lip to contain spills. Induction cooktops mean less time cleaning and more time for you!
So if you are looking to make your kitchen a safer, more family-friendly place, cooktops deserve some serious consideration. Induction cooktops, in particular, are a great choice.