Mid-Efficient Propane Furnace Problems
by Guest Post on Apr 27, 2012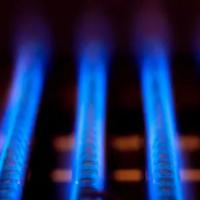 Mid-efficiency heating systems:
An exhaust fan controls the flow of combustion air and combustion gases more precisely
Electronic ignition (no pilot light)
Compact size and lighter weight to reduce cycling losses
Small-diameter flue pipe
80%–83% AFUE
No Heat Supply fan will run, combustion fan does not run.
Possible Remedy:
Turn the power off to the furnace for 10 secs, then back on. With the thermostat calling for heat, does the combustion fan start. If so then your furnace was locked out on an ignition failure.
With the power off to the furnace, rotate the shaft, it should spin freely. If the bearing is tight replace the combustion fan.
Furnace short cycles, temperature uneven in the house
Possible Remedy:
On non-electronic thermostats, the cycle rate is controlled by the anticipator. Remove the front cover, and for access to the anticipator. This should be set at 0.8 or higher for this type of furnace.
Check the air supply grills, and make sure the air from the furnace does not blow directly over the thermostat.
If the furnace is oversized, or during mild weather will cause the furnace to short cycle.
No heat- Supply fan will run, combustion fan runs but the burner will not start.
Possible Remedy:
Located on or near the vent connection is a backdraft safely control that requires you to manually reset the device. There may be another one in the burner compartment near the burners. This device will trip if hot flue gases spill out from the chimney or the burner area. Reset the control and determined the cause.
No Heat-Combustion fan will start, supply fan will run.
Possible Remedy:
When the thermostat calls for heat, the combustion fan should start and run for 30 SEC's, then the ceramic igniter or spark igniter should start. A close visual inspection of the ceramic igniter may reveal a burn mark or a break in the ceramic. These igniters seam to last 5-7 years and then they will burn out or break. Replace the igniter as required.