Sealer Treatment for Brick and Tile Floors
by Michigan State University on Apr 28, 2012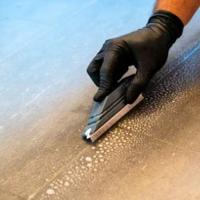 Place folded towels next to carpet areas adjoining tiled areas to absorb water. Using a scrub brush or large sponge and detergent, scrub the floor surface and rinse with clear water. Be sure any dirty wash water is completely removed from crevices. Allow the floor to dry thoroughly.
From a reliable hardware or paint store get a brick masonry sealer; sold in gallons only. It is a clear solution so it does not change the color of the tile or bricks and grout, but it will give a gloss to the surface.
Paint the sealer on the dry tile or brick, being sure to cover all crevices and cracks in bricks and grout. Let it dry and apply a second coat. Thereafter, apply one coat about every year to maintain the seal.
The sealer prevents dust from grout from being tracked into the house and makes cleaning very easy with a damp mop.
Some people prefer to use wax over the sealer. Experiment with a sample tile or an inconspicuous corner as some waxes leave a streaky undesirable finish.