Save Space with Cooktops
by Guest Post on Mar 29, 2011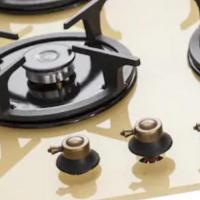 If you are planning on remodeling your kitchen, or if you want a way to conserve kitchen space, you may benefit from installing cooktops. Cooktops provide an alternative method for cooking instead of using the traditional stove/oven combination. The alternative method that cooktops provide may be able to save you some space. Let's go over the main ways that cooktops may help you to conserve the storage space that you have, while also giving you the ability to efficiently cook.
Since cooktops are separated from the oven, cooktops can be installed into any countertop space. The design of cooktops can allow for a kitchen remodel to focus more on storage space, instead of space for large appliances. This means that the oven and cooktops can be installed in a way, or worked into the design of a kitchen remodel to allow for more drawers and workable space for those that cook. The fact that cooktops are separate from an oven unit can pose a possible space-saving benefit depending on the kitchen design that you have in mind.
Another way that cooktops help to save space is by allowing you to add more cooking hardware easily. Before the days of cooktops, entire stove/oven units would have to be placed next to each other to provide for more cooking hardware. This took away storage and counter space. Cooktops eliminate the loss of space as cooktops can be installed into any existing countertop. This means that you could install cooktops next to your oven/stove unit, or you can install multiple cooktops to allow for more cooking hardware without sacrificing cabinets and drawers. While cooktops do take up counter space, the cooktops do not affect any of the drawers or cabinets located underneath the countertop. This means that cooktops may provide space benefits for those that are looking to install cooktops in order to increase their cooking hardware.
Cooktops also come in many different shapes and sizes. This means that cooktops can be ordered and installed to fit smaller or larger areas, which allows the cooktops to help you save additional counter space. The ability to customize the size of cooktops can allow you to save as much counter space as you desire, while still getting cooktops that will meet your cooking needs. In industrial kitchens, cooktops can help to save a lot of space as cooktops can be installed right next to each other to provide the cooking hardware needed, while also providing adequate storage space. Since commercial ovens are usually separated, cooktops can replace traditional stove/range units and allow for the building of extra storage cabinets and drawers.
As you can see, cooktops can provide space benefits depending on your needs. The different styles of cooktops, as well as the ability to customize cooktops, may provide you with the space that you need, while also being able to efficiently cook using the cooktops. Make sure to research the cooktop's specifications and the features that different cooktops have to make sure that you purchase the right cooktops that will give you the space benefits you are seeking.