How to Clean Your Carpet with Club Soda?
by Alexandar Todorov on Mar 18, 2016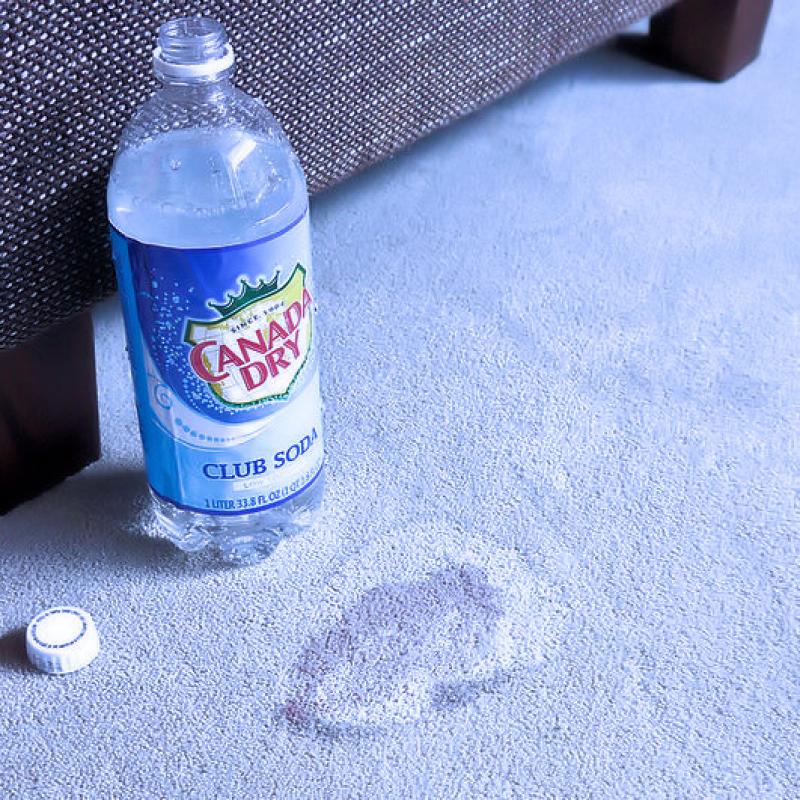 You may have heard that you can clean a carpet stain by using club soda, but how efficient is it, and how to proceed to try this method?
Well, club soda contains carbon dioxide and thus is more acidic than plain water, plus some minerals and in some cases a little bit of salt, which in theory makes it a good stain remover.
Just like vinegar, which is a proven good home remedy for stain removal, club soda has a lower pH and a slight acidity which works well for removing stains. Also, the bubbles supposedly help lift the residue to the surface of the stained textile which makes it easier to remove.
If you would like to try out this method, make sure you buy plain carbonated water without any sugar or other flavors, because they can cause further damage to your carpet because of the added sugar.
First, vacuum the stained area to remove any loose soil, and pour some club soda on top of it. Then blot it up with a clean towel or paper towels without rubbing. When the spot dries out, check to see whether the stain is gone. If it isn't, you can repeat the process, or try out another easy to make, efficient and cheap stain removal method, such as treating it with a water and vinegar solution and baking soda instead.
Club soda is said to be very efficient for treating urine stains on the carpet because it not only removes the residue but also helps neutralize the smell.
Whichever natural and the chemical-free method you choose to use, you can be sure that even if the stain is still visible after that, you, at least, cannot cause any harm either to the carpet or to the people and pets in your house with these products.
More evidence has been found that the fumes from a large part of the cleaning solutions sold in grocery stores can cause mild to sometimes serious health problems, so always try to resolve any issues with staining and do your cleaning with safe and green products. You can also look for a professional carpet cleaning service that uses only green and safe solutions to perform a deep cleaning of your carpets, rugs, and upholstery at home.
So, when your carpet or upholstery suffers a spill, try out the club soda method first, or use baking soda, vinegar, and water to clean it. If these homemade remedies don't work, then you can try with a ready-made stain remover from the store, or even better – call your local carpet cleaning company to remove the stains safely and professionally.
But if you have leftover club soda from the cleaning, you can mix yourself a nice tall drink, or use it for watering your house plants, since it contains a lot of minerals, it will naturally fertilize them and help them grow.
Last but not least, club soda can also be used to add it to your pancake mix and make your pancakes fluffier and tastier.