Unique Ways to Clean Your Window Tracks
by Tammy Emineth on Apr 3, 2023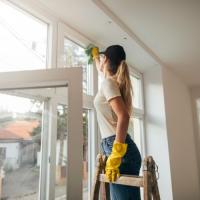 As we get closer to springtime you might be noticing that your windows need a good cleaning. Not only is it your windows, but it is the window tracks and sliding glass doors too. These areas have so many little spots that collect all of the dust and sand from living oceanside and it is about that time for you to open up and enjoy that summer ocean breeze. So, what are the best ways you can clean your windows and window tracks as you plan out your spring cleaning? Let's take a look at some popular tricks!
Unique Ways to Clean Your Window Tracks
Vinegar and Baking Soda
Greg Dallaire - Oshkosh Home Pro offers these tips: You may have heard of these two items before but they are incredible natural cleaning products. You may have not known that they are incredibly helpful in effectively cleaning your window tracks. You will want to start by cleaning out the track with a good vacuum. You can usually use one of your attachments so you can get in the racks of your window track. Then you will want to use a spray bottle, pour a cup of vinegar into the spray bottle, and use the mist setting to spray on top of the baking soda that you want to sprinkle around the tracks. For an efficient clean, use a toothbrush to loosen up all of the dirt in the tracks. Finally, you can wipe it all away with a cloth and it is suggested to use a microfiber cloth. You can continue to repeat this until your window tracks are clean.
Clothing Steamer
A traditional garment steamer is exactly what we are talking about. You can use a clothing steamer for a lot of various things. You simply use the steamer to steam away the window tracks. This loosens the dirt for you. You always want to start in one spot and make sure your windows aren't too cold because a big temperature difference can lead to cracking in the window. You don't want to use this method if you are working with a window pane or track made of any wood or polished surface. Always follow the instructions for how to add water and get the steamer heated. You want to be using distilled water. You will first want to vacuum up anything you can and then you will use the steamer to break up any dirt and grime that is stuck. After you steam then you can wipe away everything using a cloth. You can repeat this as many times as necessary to clean out the window tracks.
In Conclusion
These are some unique but useful tricks for cleaning out your window tracks. Why not give it a try as you prepare to get through all of your spring cleaning lists? This is certainly one of the many important parts of home maintenance, especially for a coastal home or a home close to the beach or water source.