Roof Anchor Points - The Benefits of Height Safety
by Valerie Muscat on Apr 21, 2019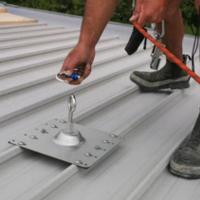 Workers in the construction industry know all too well about the importance of roof anchor points in preventing accidents. And if you're in the construction industry then it's imperative that you're not only aware of height safety procedures, but also practice them. It's important to note that construction workers aren't the only persons who risk being injured, but also painters, solar panel installers, and window washers. This basically means everyone working at elevated heights will be at risk; they may need assistance in the form of anchor points.
We'll start by answering a few questions regarding roof anchor points so that you have a better understanding of how they function.
What Are Roof Anchor Points?
Roof anchor points—also known as safety anchor points—are very crucial components of any fall protection system.
How Do Roof Anchor Points Work?
As the name suggests, roof anchor points are installed on the roof of a building. These points work by connecting different forms of tie-offs. A few examples of tie-offs include lifelines and lanyards.
Risk Factors that Can Cause Falls
Design
A good design is extremely important when it comes to working high up. And here we're not only referring to the materials being worked on but also the following:
Access equipment: The last thing you need is equipment that doesn't have the necessary safety features. As a result, it's important to ensure the equipment is safe, strong, and stable.
Taskforce: An untrained or underqualified workforce is a high-risk factor where accidents are concerned.
Existing structure: A poorly erected or positioned structure is more likely to collapse.
Deterioration of Materials
It's in your best interests to ensure that the materials your workers are working on are in good condition. Trying to cut down on equipment replacement costs by using deteriorated materials is likely to cost you more if your workers happen to fall. You'll now have to deal with either hospital bills or lawsuits.
A number of factors can cause deterioration in materials including continued exposure to harsh weather elements. Insects can also cause extensive damage over time. So make sure you conduct regular checks and use the correct anchors to avoid any accidents or fatalities.
Unprotected Edges
If the edges your workers are working on are open or unprotected, it greatly increases the chances of a fall. These unprotected edges apply not only to roofs but also to most elevated platforms like scaffolds.
Factors to Consider Before Buying Roof Anchor Points
Complexity of Task
For simple tasks consider investing in less complex roof anchor points like D-ring connections. A more complicated task will obviously warrant a more complex system like a complete lifeline system.
Number of Persons Working on the Roof
Before you invest in a fall protection system, you need to consider how many people will be working on the roof in question. This way you don't spend more than you need to on a particular roof anchor system. Depending on the system you pick, it can either be designed to handle a single person or more workers.
Roof Type
Not all roof anchor systems will work on a particular roof. This is why you must make sure you invest in a roof anchor system for your specific roof type.
Types of Roof Anchor Points
These safety anchor points aren't one-size-fits-all. You can either get temporary or permanent roof anchor points depending on the intended purpose. We'll classify them into the following three categories based on their application.
Commercial Roof Anchors
When dealing with commercial roofs, there's a certain type of roof anchor point system you must invest in. Keep in mind the following two prerequisites so you make the right investment:
A nonpenetrating fall anchor is ideal on commercial roofs, like a weighted anchor point.
If you're installing long-term points, then a CB anchor point is advisable. One advantage of this type of anchor point is that it can handle a single user or a horizontal lifeline.
Residential Roof Anchors
The residential roof anchor point system you decide on will depend on the material making up the rooftop. Residential rooftops can either be made of wood or tiles. You can opt for either the permanent or throw-away type depending on the application. The throwaway roof anchor type is ideal for connecting wood sheathing on a residential roof.
Standing Seam Roof Anchors
As the name implies, this fall protection system is the one to pick for a standing roof. When connecting an anchor point to a standing roof anchor, make sure you pick a system that uses a clamping mechanism to pinch the seam. Only then are you guaranteed a more secure fit.
Safety Tips
Below are a few tips to keep in mind regarding height safety:
Only competent and qualified staff must assess the risks associated with any job involving height.
Ensure that a rescue plan is always in place whenever a fall protection system is used.
It's imperative that you always follow the manufacturer's instruction guide regarding maintenance, inspection, and documentation of the fall protection systems.
Always ensure an elevated work platform is operated on a stable horizontal surface.
Conduct regular training sessions with your employees regarding how to properly use the equipment.
Conclusion
Installing fall protection systems is the first step in avoiding any falls. But you must also ensure regular maintenance of the system is conducted through inspection. Adequate training of all personnel working at height is also non-negotiable. Always remember; that you're responsible for your workers' safety.