5 Reasons to Hire a Junk Removal Company
by Guest on Jun 1, 2019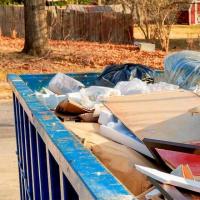 Junk removal companies can provide much needed help for homeowners in various situations. With their assistance, projects can be completed faster, safer, and easier. Instead of spending countless hours sifting through junk, homeowners can focus on more productive endeavors. Rather than letting valuable space be taken over by unnecessary items, junk can the cleared out to make way for things that actually matter.
Big piles can be sorted into different categories so that they can be donated, sold, recycled, or taken to landfills as is fitting for their current condition. Everything can be hauled off in one go thanks to large trucks which are designed for this purpose. People won't have to worry about dealing with hazardous materials as removal companies know exactly how to contain and get rid of them properly.
There are so many cases where these benefits can really be handy. For example, below are 5 times homeowners need to hire a junk removal company:
1. Moving In/Out
Rarely will people live in the same house all their lives. The vast majority will move around a few times over the course of their lifetime. For instance, incoming college freshmen may go to a different state to pursue their studies. Newly married couples may move into a home of their own. Once the family grows, they might transfer again to a bigger property. If there are career opportunities elsewhere, then people could be tempted to try their luck. Removal companies can assist in discarding old belongings so that individuals can feel free to go where they want to.
2. After Storm or Water Damage
Strong storms can be highly destructive. They can blow the roofs off houses and uproot trees. They can cause massive floods that submerge entire towns and cities. The aftermath can look similar to a warzone in terms of devastation. Cleanup can be a long and difficult process given the amount of damage all around. It would be difficult to haul the debris using just personal vehicles with their size, weight, and wetness. The help of junk removal specialists will surely be appreciated since large volumes can be removed in one go. As the yards clear up, life can slowly return to normal for those severely affected by this type of natural disaster.
3. Empty Nesting
Parents will do everything in their power to provide for their children, including the purchase of a house that is big enough to accommodate the whole family. Once the children are grown, however, they are likely to move to different places to continue their education. Parents are left with an empty nest that can feel incompatible with their current situation. Some of the rooms may be geared towards the needs of the kids who aren't there anymore to use them. Removal companies can be called in to take out whatever feels unnecessary. This should leave more space for the things that parents want to create. For example, they may turn a bedroom or a game room into a home theater or craft room.
4. Bath and Kitchen Renovations
The bathroom and the kitchen are two of the most used and abused parts of the house. The activity level and the presence of moisture make these areas prone to damage. Things might look incredible in a brand new house but give it a few years and problems will inevitably start to surface. The design might also begin to look outdated after a while. If a homeowner wishes to conduct renovations, then it would be prudent to contact removal companies for help in taking out the construction debris. This is especially important if the new design requires the demolition of walls, counters, and cabinets. Schedule the appointment strategically to prevent junk piles from sitting too long in the yard.
5. Relocating the Elderly to a Senior Care Facility
Needs change as we age. Seniors may not feel comfortable living in a large house anymore because of their limited mobility. They might want to move to a smaller home where they can have more control over their surroundings. They could also choose to stay in a senior care facility where specialists can attend to their needs. The things that they have accumulated over their lifetimes will require disposal before the big move. Perhaps some will be earmarked for donation while others will be sold to finance their retirement. Junk items can be recycled or sent to landfills. Waste removal companies have a great deal of experience in dealing with this type of situation.
You do not have to shoulder all the burden when it comes to asset disposal. Let a junk removal company lend a helping hand so that you can minimize stress and hasten project completion. You will get much better results with the assistance of these experts. Call a local junk removal company for more information about their services and rates.