Five Benefits of Choosing Aluminum Fencing
by Carlton Dwyer on Nov 8, 2019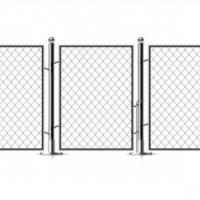 When choosing fencing for either your home or your commercial property, you want to look for good fencing material while still staying within budget. Aluminum fencing has a number of unique benefits that you may want to consider before going with another material.
Here are a few of the reasons why you should go with aluminum fencing:
1. Low maintenance.
Aluminum doesn't rust. Due to that single fact, it lasts longer than iron fences and they require very little maintenance. Also, the paint on aluminum fences don't fade or chip, so they don't need to be repainted every few years like wood or iron. This is because, during the manufacturing process, multiple protective coats are added to the base aluminum, as well as a layer of powder paint on top.
2. Long life.
Another benefit of the never-rusting aluminum is that it lasts a very long time. Aluminum is estimated to take 10,000 years to disintegrate under normal weather conditions. With a lifespan this long, you won't be replacing your fences anytime soon.
3. Cost.
Aluminum is much cheaper than wrought iron, while still carrying a similar look and style. It's also easier to work with and manufacture. Choosing aluminum over wrought iron or even wood can save you hundreds up front and potentially thousands in the long run.
4. Aluminum fences are rackable.
No property is the same so fences need to be rackable. This means that they can adjust to the slope of the land to fill in any gaps. This makes sure there are no unsightly openings around the fence and results in a seamless flow around the property.
5. Simply looks better.
While providing low maintenance and security, these fences also look great. Black aluminum fencing blends with almost all landscapes, adds curb appeal. It offers security, and comes in many styles. Check out our gallery of projects to see how versatile aluminum can be.