Choosing a Shade Sail for Your Outdoor Space
by Guest on Dec 15, 2011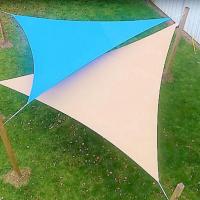 Shade sails are large swaths of fabric installed high above a sunny space to create shade. Since Egyptian times, shade sails have been used to make the summer heat more bearable. Shade sails are a simpler alternative to building a pergola or other permanent shade structure, and can be taken down at the end of the season and stored for the winter.
Shade sails must be installed properly to ensure the most possible shade, the safest position, and the best drainage for water. First, check the strength of any posts you will use to erect your sail. Installing shade sails properly requires a great deal of tension. If the post is rotting or is not firmly planted, the sail will sag, or worse, pull the post out of its anchor. Most shade sails come with the hardware required for installation. Ensure that all rings are firmly screwed into the anchor points and make sure that your sail is installed with one corner slightly lower than the others to ensure water will drain off. Depending on the fabric you choose for your shade sail, it may resist wind flow, which could cause problems if it's installed improperly during a storm. Always secure your shade sail using proper hardware to avoid wind and water damage.
Shapes
Most shade sails are triangular, much like the sail of a boat. The triangular shape makes it easier to install the sail and allows it to be strung tightly between three points. Rectangular shade sails are also available and are ideal for larger spaces. Alternatively, two triangular shade sails can be installed so that one overlaps the other, positioned at a higher level. Not only does this provide more shade, but it also creates a beautiful, architectural effect.
Sizes
Shade sails are available in virtually any size. Small sails, or those measuring 10 feet across or less, are perfect for small patios or corners of the yard that get some shade throughout the day. Larger sails are 24 feet across or more and work for larger areas that don't get any shade during the day. To figure out the size of the sail you need, use stakes and string to outline the area you would like to shade. Determine the path of the sun in relation to your space; this will affect the size of the sail you need. With a helper, hold up a sheet over the area during different parts of the day to figure out where the shade falls. Once you have this information, you can choose the appropriate size of sail you need, or determine how to position two sails to get optimum shade.
Fabrics
Shade sails are usually made from woven mesh material, although they are available in a variety of fabrics for different preferences. Some are made with fabric that blocks UV rays; others are made from waterproof fabric such as PVC vinyl. Marine canvas shades completely block the sun, as well as allow water to roll off without soaking the area beneath the shade.
Cost
Shade sails vary greatly in price, depending on the size, shape, and material. Custom shade sails can be many times more expensive than pre-made varieties. Before considering a custom shade sail, try experimenting with different configurations of a few smaller sails. Not only will using several sails add depth and interest to a space, but it could also save you hundreds of dollars. Because shade sails are available in so many different materials, colors and designs, it should be fairly easy to find a pre-made configuration that works for your space.