How to Better Prepare for Bathroom Remodeling
by Boris Dzhingarov on Oct 12, 2018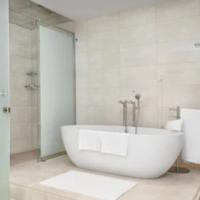 There are so many things you can do – and projects you can try – to improve the bathrooms in your house. Renovating the bathroom is a worthy project to take on for a number of reasons. For starters, the additions you introduce to the bathroom will also boost the value of the property as a whole.
Bathroom remodeling is also a great way to make your bathroom more functional, beautiful, and comfortable at the same time. Before trying some of the latest bathroom DIY projects, however, there are a few things you need to prepare first.
A Thorough Inspection
You want your DIY projects to improve the bathroom rather than create more problems, which is why doing a thorough inspection of the space is a necessary first step to take. Work with professionals and have experts inspect details such as your plumbing and the space itself.
The purpose of this inspection is to find issues – or signs of potential problems – before they turn into bigger problems that cannot be solved as easily. When there are issues to be solved, be sure to take the necessary steps to get rid of them too.
Plan Ahead
Good bathroom remodeling projects always begin with careful planning. You have to keep in mind that the bathroom is a high-traffic area. Planning is a great way to minimize disruptions, prepare better for the project, and get better results in general.
While planning for the project, consider the materials you need as well as the tools required to complete the project. Make sure you have everything ready before actually starting the project. Otherwise, you will run into challenges that you can't always face along the way.
Think About Others
It is also important to keep others in mind before renovating the bathroom, particularly those who live in (or near) the house. Many bathroom remodeling projects, including DIY ones, are relatively expensive and have the potential to cause discomfort.
This is where planning is also beneficial. When the project you want to take on is extensive or involves additional workers, for example, you can minimize discomfort by renting Satellite Septic Trucks and having backup restrooms available for use.
Set a Budget
Another thing to watch closely is your remodeling project budget. A small DIY project can turn into a financial nightmare when you don't budget for the project correctly. Decide on the amount of money you can afford to spend on the remodeling and make sure you stay within the budget at all times.
Thanks to the internet and the many deals and special offers available, there are a lot of ways you can save on your next remodeling project. You can compare discounts, buy materials in bulk, and even get quotes from multiple contractors (if you need help with the project) online.
Start!
Last but certainly not least, manage the time needed to complete the project accordingly. Start when you know you can focus on the remodeling project and stick with a timeframe that everyone is comfortable with the most.
With these preparations made before starting the project, turning your old bathroom into a beautiful and functional space is not difficult at all. Find ideas and DIY projects to explore and start improving your bathroom today.