Expert Concrete Contractors Explain Concrete Cutting and Coring
by Jake Smith on Feb 8, 2022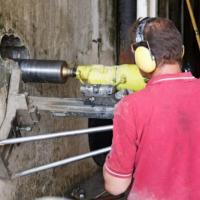 If you've ever seen concrete work taking place, you may have wondered what they were doing. Most likely, it was either concrete cutting or coring. This is the primary process of removing a concrete cylinder from a structure. Here are a few basic facts. See how expert concrete contractors explain concrete cutting and coring. You may find it to be an interesting process.
What's the Difference Between Concrete Cutting & Coring?
Take a look at some quick explanations about what the different types of concrete services and processes are out there.
Concrete coring
Concrete coring uses state-of-the-art diamond cutting technologies to cut precise circular cuts into concrete in order to create a smooth opening. This is done by a large machine that is able to draw perfectly round holes in concrete. These drills can be hydraulic or electrical machines. Coring machines attachment can be anywhere between ½" to 60." Basically, it can create whatever size hole you need, from small electrical wire holes to something much larger.   
Concrete Cutting
Concrete cutting is when either the wall sawing or sawing slabs are otherwise referred to as "flat sawing." Like concrete coring, diamond cutting technologies are used to cut smooth and level openings. Depending on what type of work is being done is which kind of concrete cutting is used. 
Wall sawing
Wall sawing is when openings are cut into pre-existing concrete in order to add a window, wall, HVAC system, or something similar. In order to do this correctly, a professional cutter will use a circular diamond blade with an attachment to make sure they can cut all the way through the concrete. 
Flat sawing
Flat sawing also uses the diamond cutting method in order to cut "slabs" out of the concrete. Flat sawing has a diamond blade that's mounted on the walk-behind machine. These machines are used on various surfaces, such as removing large sections of a floor, bridge decks, cutting trenches, removal of driveways, and pavement removal. 
What is Concrete Coring Used For?
Basically, concrete coring could be used anytime you need a smooth, perfectly shaped hole. Most of the time, it's used for commercial or residential purposes, but it can be used for nearly any purpose when concrete needs to be cut with clean precision. 
Utilities, computer lines, phone lines, conduit, and other electrical needs internet and cable lines
As you can see, most of what keeps your home or business running is something that concrete coring was used for. From your phone lines to your computer lines, some size concrete coring was used. An example of this is, have you ever had a phone installed or cable? If so, when they were drilling into your home, the tool used was probably a coring tool. 
Water pipes, sewer lines, plumbing pipes
Before the workers can put the plumbing and sewer lines in, coring is used to drill their path. These holes are small and need to be done with the utmost precision to ensure there are no mistakes. 
Ventilation holes, HVAC openings 
Sometimes we don't think about our ventilation systems. The tool is also used to drill holes for where the intake and outtake come out of the residential or commercial building; HVAC units consist primarily of air conditioners, furnaces, and things like that. The most frequent example to think of is when you drive by commercial buildings and see those systems on their roofs. The larger ones are an example of HVAC units. 
Bumper posts, removing and replacing anchor bolts, and creating manholes
These jobs are a bit larger than most residential ones. Bumper posts are what you see in front of some businesses that prevent people from running into them. Anchor bolts are the bolts you see that are drilled into the concrete. 
What is involved in the concrete coring process?
A concrete core drilling machine uses a large device with a diamond cutting edge to drill a round hole. The diamond blade is the strongest cutting tool available and can cut through concrete, rebar, and steel without becoming dull or damaged. 
These drills are attached to an electrical or hydraulic coring machine with a rotating shaft to power the drill. The drill bits range from 1/2" to 76" and drill to any depth that's needed. The drill is frequently attached to the floor, wall, or other surfaces using either anchor bolts or vacuum seals to ensure it's secure. During the drilling process, the drill is cooled with water to prevent overheating. 
Concrete Cutting
Concrete cutting uses controlled sawing, which uses various diamond saw blades to cut quickly and with perfect precision. Unlike coring saw, blades cut rapidly and need less water to create a smooth finish. Concrete saws use a vacuum system that reduces the amount of dust that's in the air. 
What are concrete cutting saws used for?
Concrete saws are used to cut through hard materials such as tiles, concrete, or stone blocks. It can be used by hand or mounted on stands or attached to a wheeled machine. A handheld machine is often used when cutting into walls for windows, doors, or other openings. These same devices are also used for larger jobs such as road work.
What is involved in the concrete cutting process?
Professionals use flat saws when flat cutting, like driveways and basement floors. These saws should not be used in wet environments because of the risk of shock. Professionals use electric saws whenever possible because they do not harm the environment.  Wall saws are used when cutting through walls to create windows, doors, or other openings.   
Why Concrete Cutting & Coring Aren't DIY Projects 
Some people falsely believe that cutting through concrete is something they can do themselves, but there are many reasons you shouldn't do it. If you don't have the right tools, you won't cut the concrete without breaking it. Plus, you do not have the knowledge or skill to do it safely unless you're properly trained.  
Lack of experience 
Cutting concrete isn't predictable. If you're not experienced in this type of project, you won't know the correct depth to cut it or if it contains rebar. If you accidentally cut a cable, you can cause a lot of expensive damage. 
Tools
Professionals use special blades to make sure that the concrete is cut smoothly and can cut through the concrete and other materials used to stabilize it. Concrete saws often use water to cool the blade and vacuums to decrease the amount of dust. 
Risk of accidents
There are many dangers when using these tools. The saws are unbelievably sharp to cut through the concrete, and if you don't know how to handle them correctly, you can end up harming yourself. Saws may frequently push back, kick back, or pull in which can lead to accidents. 
The Takeaway
If you have a project that involves cutting or coring concrete, you need to call a professional. Now that you understand what is involved, you know all of the intricate details involved in the process. If you attempt to do it yourself, you could harm yourself or others and also end up causing extensive damage.