What you Need to Know About Building a Home
by Nick Marr on Nov 9, 2021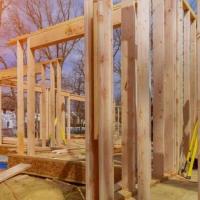 A custom home can be a dream come true. It's your chance to design the perfect house for your family, complete with all the amenities and features you want in an ideal setting. However, building your home is not without its challenges.
There are many things to consider when building a home including a budget, design, location, and hiring a contractor. Custom homes require lots of work and careful planning before construction begins. Here are some things to consider. 
Complete Your Budget
Make sure you know how much money it will take to custom-build your house before construction begins. If the amount of money you have to build the house doesn't stretch far enough, consider building a more straightforward home or waiting until you can save up more builder fees.
Create a Timeline
If the custom home you're building is one you plan to move into right away, don't underestimate how long the custom home building process will take. The home building process typically takes 6-12 months.
Secure Financing
Make sure you know how much money you need to build a home and secure financing before you start looking at designs or talking to builders. If it turns out that your finances don't stretch far enough to cover the building, you can either put construction on hold or cut back on some of your custom features.
Make sure that the financing options available offer flexible repayment terms and interest rates. Also, consult with builders about possible experiences so that you have an idea of how financing tends to work.
Find a Design
Think carefully before asking for design changes. You'll need to pay builder fees to update your plans, and the house may not turn out exactly as you had planned if you make too many compromises in the process.
Make sure that the design suits your family and location. You should also pay attention to the custom design elements that custom home builders use. For example, custom homes built using PEX and copper appliances typically come with warranties that last much longer than other home elements.
Prioritize Durability
Your house should be a long-term fixture in your life. If you choose a design or customization plan without durability in mind, you could end up with features requiring upgrades or appliances that don't last. Do your research before building begins.
Choose a Location
Custom homes are made for their locations, so you shouldn't choose a builder or design plan without considering your desired location. Make sure that the house will be suitable for local climate conditions and zoning laws.
Hire a Builder
Find custom home builders by consulting with building companies. Ask companies about home building experiences, the size of their pool of builders, their home design abilities, and home building licenses.
If you've been thinking about custom home building but haven't yet decided, this article should give you some helpful insights to make the right choice for your family. Custom homes are an investment in both time and money, so you must take all necessary steps before committing to building your own house from start to finish.