Strawberry Planters : Grow a Little Taste of Heaven
by Guest Post on May 3, 2012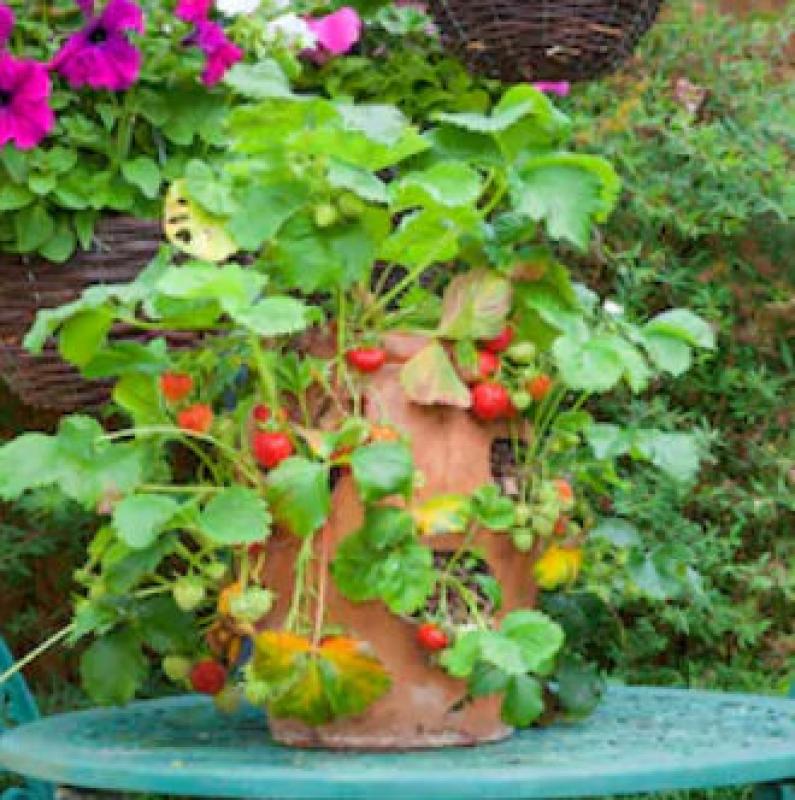 Strawberry planters have increased in popularity over the years as consumers scramble to grow yummy strawberries for themselves rather than be restricted to the tasteless variety sold in supermarkets. Fortunately, strawberries are easy to grow and crops can be produced quickly and easily in a variety of containers with a little loving care.
Types of Strawberry Planters
You can grow strawberries in any kind of garden planters that hold soil, but there are advantages to containers that keep the strawberries off the soil or allow plants to grow in very small spaces. Remember that fruit, like vegetables, need a lot of moisture, about six hours of sun a day, and good drainage. A strawberry-friendly planter, pot, or jar usually announces that it is exactly that, and provides a very good environment for growing healthy, productive plants.
1. Basic Plastic Planters – They retain moisture well, are inexpensive, light, and easy to move from one location to another to capture an elusive sun or to avoid the wind and hail.

2. Ceramic Planters or Strawberry Jars – They retain moisture well and if no drainage holes are provided, an inner liner or gravel core for the jar should be used. These containers are not easy to move if they are large and full of wet soil and plants. Ceramic planters designed for strawberry growing will have pockets all around in which plants can be grown and are real space savers.

3. Pouches – These containers have pre-cut planting holes around them and allow protection for the plants from disease and insects when they are hung up. Don't forget to water frequently but don't drown them either. The cascading foliage looks very attractive, and the strawberries never touch the soil.

4. Strawberry Towers – These are usually made of terracotta or earthenware, but can be constructed of almost anything, and holes are spaced around them in rings. Like strawberry jars, they hold lots of plants in a small space.

5. Pyramid Planters – Ditto. Like the towers, pyramids are space savers, and keep the fruit raised.

6. Hanging Planters and Window Boxes – Because strawberries have shallow roots, hangers and window boxes don't have to be very deep, and, like pouches, offer protection from insects and diseases that circulate through gardens.
Use Your Strawberry Planters to Advantage
1. Strawberries like lots of sun but not too much heat, and thrive in moist conditions, but need excellent drainage. Use a central drainage core for vertical towers and strawberry jars.

2. These plants thrive with hydroponics and organic growing techniques, but also do well with traditional methods and like potting mixes and enriched soil.

3. It's important to keep the fruit off the soil to avoid having it rot before it fully ripens, which is why growing strawberries vertically in a tower or a pouch is so appropriate.

4. Starting with young plants is better than growing strawberries from seed. Runners will be sent out from the parent plant and it is best to pinch these off to promote fruit growth. The runners can be grown as new plants, first in seed trays and then transplanted after new roots have formed. Since old plants are less productive, they should be replaced every year or so, and runners can be used to do this.

5. The crown of the plant should not be buried or the plant will rot, and it must not be so high that the roots are exposed and dry out.

6. Strawberry plants should be planted in the cool of the spring, not in the hot summer, and you can plan on 30 to 65 days before fruit can be harvested, depending on the variety chosen.

7. If there are a lot of birds in your neighborhood, protect the fruit with a lightweight plastic netting. Keep your eyes open for the natural enemies – aphids, red spider mites, slugs, and mildew – and deal with them before they become destructive.
Strawberries are one of the most loved of all the fruits and you don't need a lot of experience to grow them successfully. Order a strawberry planter safely and conveniently online and start gardening. You will be the envy of all your friends.