Primer of Bathroom Remodeling
by Guest Post on Oct 23, 2010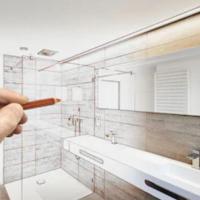 Bathroom interiors tend to be under-budgeted as compared to the rest of the home. Doing a bathroom area gets some of us to think about why to spend so much when we spend so little time in the bathroom. We all know it's not true and a good bathroom area feels as terrific as the rest of the home. Let us focus on a few areas that allow you to estimate costs, without going bankrupt. 
Now let us get into areas demanding minute attention. To avoid space constraints, you can work on exploiting whatever space you have. Start with blank corners and wasted space. For instance, you may want to make use of an idle wall sneaking at you at odd times. Turn it into a showcase/cabinet to use/display. Use lighting accents to highlight areas of display (why cannot a bathroom have its showcase!) and use shelves to stack your toiletries. You can also green up corners besides your toilet seat with interior plants. Get creative. Hang creative pieces from over the toilet, or some nice mirror work to create an illusion of space. Invest in showers, gadgets, mirrors, dressers, and vanities for you will be happy with it some years down the line. Bathroom furniture needs to be cozy and relaxing. Choose from a range that goes with the overall look and appeal.
In reality, individual bathroom sites alone can determine how can play with space and make the best of it, but use creative tools to add a feeling of space then add textures, drapery, and the right lighting. Even contemporary interiors look promising. Here are few cool essentials I find up to the mark.
The Crystal Shower Enclosure makes a versatile corral with a safe ¼-inch tempered glass door along with fiberglass reinforced acrylic & steel. Equipped with secure magnetic latches, the doors open effortlessly on integrated hinges. The visible fixtures are in the chromed finish, and the door is reversible allowing the left/right opening. Designed to fix against tiled walls, its available in three sizes. And, I think it's worth investing in a shower case.
The Destiny Shower Enclosure is equally appealing and it allows you to install the glass on custom tiled trays, and for streamlined installation, it can be combined with optional tray. Frame finish is available in Chrome/White/Brushed Aluminum. The aluminum in the shower door is durable and resistant to water damage.
If you have a shower enclosure installed, it makes sense of investing in a convenient shower column. I like the Camilla Shower Column with its anodized aluminum body in a satin finish. Equipped with six adjustable body jets and multifunctional 5" hand shower and holder. The best practical part, it can be easily installed back-to-wall or in a corner.
Lighting can play an important role in bathrooms; poorly lit areas only make the bathroom appear dull & gray. Work on areas you need light, like on top of the mirror, seating area and near the shower. The market is flooded with fancy lights, I probed and found a few, and one of them deserves mention—the Lara Bathroom Sink Lighting in ceramic with its unique pattern, UL approved for damp areas, great for reducing eye fatigue by hiding bulbs that are normally exposed.
Coming to our best focus—vanities-- check out Enzo Ceramic Vanity. It's rather sophisticated and I fell for its all-around appeal. It offers an incredible storage room and the choice of double/single sink. Its decent with a combo of wood, ceramic and metal…also offers finish choices…
Another stunner makes it here—the Rocco Ceramic Vanity. Great for big spaces, what I like is the immense storage space it comes with! On cards is under-mount white porcelain sink with overflow, generous storage cabinet and drawers, water resistant polyurethane finish & optional matching mirror and four different configurations of main and side cabinet…overall, a unit that takes care of all….
Modern vanities have been making a boom too and need to be highlighted. The Integrator Square Glass Bathroom Vanity is beauty in clear glass, creating an illusion of space again, great for medium sized bath areas. Equipped with towel bar, faucet holes, I-trap & pop-up drain assembly, its rocking stuff for bathrooms…
If you have great hardware for the bathroom but are looking for some stylish faucets to do with the changed interiors—check out the Frame Single lever Tall Faucet.
Lastly, don't overdo the interiors…let some space breathes in there…. use individual pieces that add a personal touch and work on areas that are ignored…after all,all the work makes it worth at the end of the day…