Buying Quality Entry Door Locks
by Guest on Mar 12, 2010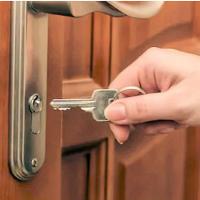 Buying entry door locks is a matter of security for your home or building project. Learn how to assess the quality and safety of a lock with this 3-point article.
Not all entry door locks will serve the safety of a building equally. There are many factors to consider as you choose an entry door lock for your home or contracted building project. The most important aspect of an entry door lock is its security—which is determined by its quality. Finding the quality of entry door locks is not difficult once you understand the following factors that influence the longevity, strength, and overall quality of your lock.
1. Fit It is very important to the security and strength of your door to consider the fit of the lock within the door. Entry door locks can be found to fit certain standard sizes of cuts within the door. If the lock fits poorly in the door inset, it is possible that the lock could be pried loose or disassembled from the outside. Finding the proper fit is as easy as taking a measurement of the opening in your door or planning ahead to buy a matching door type and lock type.
2. Material Most entry door locks are made of strong, heat-treated metal with a polished brass exterior. It is important to find a door lock with a protective or anti-tarnish coating. This protects not only the look and feel of your doorknob but the quality and longevity of your entry door lock. Avoid corrosion and deterioration in the strength of the lock's metals by choosing a lock that is protection coated.
3. Bolt type In addition to considering the strength and fit of your door lock, it is also important to consider the strength and dimensions of the bolt on the lock. Look for a sturdy, solid metal bolt that comes with a metal inset to place on the door frame. This metal inset gives the bolt somewhere to engage and reinforces the strength of the door frame so that the lock cannot be easily kicked in or pried away from the frame. It is essential to have this metal piece in order to have a sturdy lock.
As you consider these factors in buying a strong and safe entry door lock, make sure to look for quality and correct fit. It is pointless to have a lock that will not adequately protect a home, and not every lock is designed and manufactured to achieve this goal properly.