Update Your Lighting for a Brighter Kitchen
by Jessica Ackerman on May 23, 2010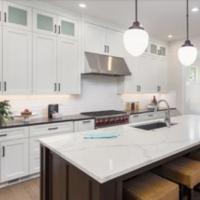 Updating your lighting so that you have a brighter kitchen is one of the smartest kitchen investments you can make. A bright, well-lit kitchen is significantly safer at every age.
Unfortunately, many older home kitchen designs offer one central light fixture. Light from a hood over the stove is often the only other light in the kitchen. This just doesn't light work areas adequately.
What is the best way to update the lighting in one of these light challenged kitchens? Track lighting is the easiest option by far. Before you say, "Yuk! That's ugly," you need to do some shopping. There are some very attractive track lighting systems on the market now that add to the style of your kitchen.
The primary advantage of using track is the ability to convert that central light source into targeted lighting for the areas you work in. With track, you don't have to rewire the kitchen.
Here are some of the things you need to know before you purchase a track lighting system.
Track lighting comes in different systems.
Three different "standard" systems trace their roots to the first manufacturers of track lighting—Halo, Juno, and Lightolier. Each system uses a different track and requires light fixtures designed to fit into that specific track. Fortunately, it is quite easy to identify which fixtures fit which tracks. Tracks and fixtures are labeled as H, J or L. Any other "standard" systems may be difficult to find replacement fixtures for in the future.
Before you settle on which track type you want to use, look at the available fixtures. If you like the fixtures in one style, you have to match the track type to that manufacturer.
Plot the layout of your lights.
Now you need to decide where you want to light. Common areas are over the stove, sink, and prep counter.
Choose lamps (fixtures).
Track lighting comes in two forms—low voltage and line voltage. Low voltage lamps come with a 4-inch box at the base that converts the 120-volt current in the track to 12 volts. Line voltage fixtures draw current directly from the track. With CFL bulbs reducing energy usage so much, using line voltage fixtures is probably the most energy-efficient.
Choose bulbs.
If you go with inline lamps, you should be able to use energy-efficient CFL bulbs or new LED bulbs. If you want to focus light on specific areas, you can use a CFL flood lamp. It won't be as hot as incandescent or halogen bulbs. You can also install several lights along the track to light an area and not use spots at all.
Once you have gone through all these steps, you are ready to make your final decisions. Unless you have experience working with electrical fixtures, it is a wise investment to hire an electrician to install your track. That way you can be sure that your track is connected safely to the power source.
Track lighting offers flexibility.
If you have a cathedral ceiling over your kitchen, track lighting is still an option. Some kits allow you to suspend track from the ceiling, thus creating a dramatic effect.
There are other ways to update your lighting, but track lighting is the easiest option for an older home.