What are the Benefits of Garage Flooring?
by Guest Post on Feb 4, 2010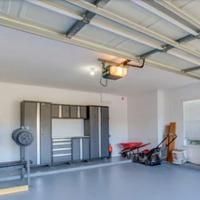 As people upgrade their homes or complete home projects, they are always looking for something else to improve. The latest trend is to spruce up their garage. The garage is slowly becoming more than just a place to store boxes and tools, or toss your recycling until your next trip to the recycling center. It is becoming a central place for activities. I think some of this has to do with the fact that a lot of new homes look roomy from the outside, but are not. They have small rooms, little storage, and restrictive floor space.
Enough for basic living, but not room for extra activities. People are looking for space for do-it-yourself projects, woodworking, play space for the kids, a workout area, or just some space for a bit of peace and quiet. So you don't want it to just look like a garage with a concrete floor that has been framed. Many people, and often new homes built today, do take the first step of putting up drywall. This makes a big difference in the look of the garage, but the concrete floor still gives it a cold feeling. But you don't have to settle for a cold concrete floor, there are other options in the form of easy-to-install garage flooring.
Garage flooring serves a couple of purposes. Not only do they make your garage look better by covering up old and cracked floors, but they also protect concrete floors from corrosive materials such as antifreeze, oil, and salt. So even if you are just using your garage to store your car, drywall and garage flooring can increase the value of your home for resale.
Some options to improve your garage floor are to paint or seal it with an epoxy coating. But these are fairly labor intensive and require prep of the floor as well as proper application - primarily for an epoxy coating. But one of the great things about garage flooring is the ease with which it can be installed. Most garage flooring comes as interlocking or as peel and sticks tiles. They can often be laid in just one or two days, and require a minimum of tools. Normally you just need a measuring tape, a utility knife to cut down any tiles that overlap, and a pair of kneepads for comfort. And, you can lay them at any time of the year, you are not controlled by temperature like when you paint or epoxy.
Most tiles are either made of rubber or vinyl, both are durable and work well. They are resistant to cracking, chipping, and peeling and are easy to maintain. You can sweep, vacuum, or hose them down. They are also immune to the adverse effects of grease, oil, battery acid, and other chemicals that can damage a concrete floor. They are designed to withstand the weight of even the heaviest vehicles and securely stay in place.
Many come in a variety of textures and designs, including ribbed, diamond, levant, and coin patterns. Or for a high-end, professional look, you can use checkered tile floorings such as seen in some showrooms and high-end mechanics. This gives you a real custom look, you can checker yellow and black, blue and white, red and gray, etc. What if you have a drain in your garage floor that you need to which you need to maintain access? This is also not a problem. Drain tiles are available that have open grates to allow access to floor drains while maintaining a uniform surface height across the floor.
Garage flooring is a great way to spruce up your garage, increase your home value, and create a more comfortable living space that can be used for a variety of purposes. For a reasonable price and a quick weekend project, you can accomplish much by laying garage flooring.