Using Your Garage Space for more than Just Car Storage?
by Paul Howells on Feb 26, 2016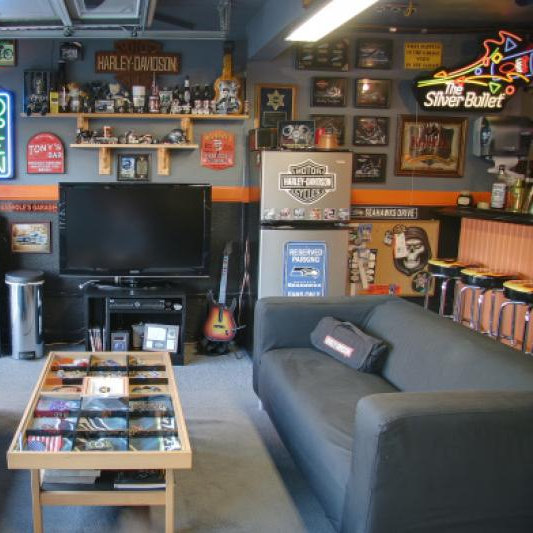 Once upon a time, having a garage was very straightforward as it was simply a place to store your car at night and maybe store a few items from the house that you didn't have room for. However, in recent years we're using our garage spaces for a variety of other uses. This includes:
The man cave
That special man place where men can do men things in peace and quiet. This can cover quite many things, but typical man caves usually include one or more of the following: Comfy sofas, big TVs, pool tables, consoles.
Gym
In the quest to keep fit, more and more of us are saving our gym subscriptions and instead of spending the money on converting our garages into small home multi-gyms.
Home office
With more and more of us working longer hours, more and more of us are cutting down our commuting time by working from home part of the week, enabling more personal and family time.
Workshop
Whether it is rebuilding a classic motorcycle, making wooden furniture or putting your garage to another workshop use, it is something more and more of us are doing.
Whatever the reason for utilizing your garage space in another way than simply storing your car, one thing is apparent. Whilst it is perfectly OK to store your car in there all year round when the winter bites you may find yourself too cold to enjoy your new space to its full. Whilst you may be able to warm yourself up if you've got lots of gym equipment in there, if you're using it as an office, sitting at a desk all day isn't going to be too comfortable when the winter starts to bite. So how can you ensure you keep your new space warm?
Check your garage door
The first thing you should do is check if your garage door is damaged in any way. If it's bent, has come out of alignment or has some other form of damage, it may be worth calling in a local garage door repair service. If the door isn't fitting 100%, then it won't be very efficient at keeping the heat in. It may well be worth asking the experts in any way as they'll be able to help you reseal your garage door. The best option may well be a new garage door altogether, as the most modern designs are very well insulated and will make a big difference to the energy efficiency of your garage and your home in general.
Insulate your garage walls and think about flooring
Your garage may well just be bare brick which means it is not energy efficient at all. Investing in insulating the walls may seem a big outlay at first, but you will reap the rewards in comfort and when you come to heat your garage, you'll save big time on utilities. The other thing to consider is flooring. Carpet is probably your best option, laying a good quality thick pile on a high quality underlay ensuring that you are no longer standing on cold bare concrete, and this will keep the room feeling warm and snug, even in the cold.
Install a form of heating
Finally, you need to install some form of heating. In the short term, electric heaters may be OK,  but ideally, you want to be looking to link it with your home's central heating system if your garage and house are attached. It's relatively easy and cheap to do and along with good insulation and carpets will see your garage space, whatever you are using it for warm and good to go whatever the weather outside.