DIY: Fit Your own Kitchen Door
by Lorena Benchis on Dec 15, 2011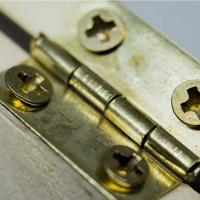 If you need a new kitchen door fitting and are looking to save money, you might be considering tackling the job yourself. If this is the case, it is worth bearing in mind that embarking on an ill-advised DIY job can end up costing you more time and money in the long run, trying to fix the mistakes you've made. So, if you are inexperienced or ill-equipped when it comes to DIY, it might be best to enlist the services of a professional.
For those more confident in their DIY skills, take a look at our step-by-step tips for fitting a kitchen door before you start.
Firstly, think about whether the door will open inwards or outwards. If you want the door to open inwards, make sure you have enough room for it to do so, so that the door is not constantly banging into the wall or the kitchen units.
Next, measure your door frame to determine what size of door you will need to purchase. It is advisable to do this rather than measuring the existing door, as you will get more accurate results. It may also be that the older door has warped slightly over time and therefore the measurements could be off slightly.
Measure the width of the door frame at the top, middle, and bottom, and measure the height from the floor to the top. Measure the door itself to find out the thickness, although you don't have to get exactly the same thickness in your new door; as long as it is approximately right that's fine.
Once you have established the size and width of the door you need, you can choose from the great selection available from many options online. When fitting the door, leave a 2-3mm gap between it and the frame and make any small adjustments by shaving the wood with a plane.
Mark positions on the door frame where the hinges will be and carefully chisel out recesses where the hinges will fit. To prevent the wood from splitting, make test holes in the wood first.
Next, screw each hinge into position with one screw and test that the door swings open and shut properly. If it does, you can screw in the remaining screws.
Finally, enjoy your new kitchen door, and well done!