How to Upgrade Your Garage without Breaking the Bank
by Boris Dzhingarov on Jun 6, 2018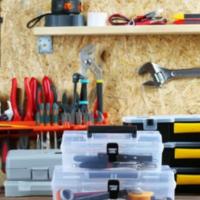 In today's modern world, the garage doesn't have to be an abandoned, messy space that you visit only to get your car or to find certain tools you need for other DIY projects. Modern homes now have garages that are functional, clean, and well-organized, making the space much more useful and easier on the eyes.
You too can upgrade your garage and turn the space into a valuable addition to the property. There is a lot you can do when it comes to improving the garage and we are going to take a look at some of the more affordable options in this article.
A Larger Garage
If you have space, building a larger, more spacious garage is actually an option worth considering. Having a larger space to work with means you can achieve so much more. You can, for instance, keep the space for storing your car while having a fully functional woodworking workshop in the garage.
To keep the cost of enlarging your garage more affordable, there are a few things you can do. First of all, you can go down the prefab route and have a prefabricated metal garage from top providers. The time needed to complete the process of adding the larger space can be reduced as well.
Another way to expand the garage is through some simple DIY projects. You may have to allocate a few weekends to get the project done but adding extensions to the existing space – either permanent ones or temporary extensions using a tent – is an idea worth exploring.
Better Utilization of Space
You don't have to actually expand the garage to make it feel bigger. Better organization and utilization of space can also lead to the garage being entirely upgraded. Naturally, the process of utilizing the space in your garage begins with actually cleaning it out and taking all the items you store inside out.
You can then add vertical storage and a more comprehensive set of drawers and racks. Start organizing items based on their frequency of use and it won't be long before you have a tidier garage. Once items and tools are under control, you can add a workspace, a set of tables with durable tops, and even a big hydraulic jack for your car.
Upgraded Details
Don't forget to upgrade certain elements that make your garage more usable too. Adding better ventilation and an air conditioning system can help make the space much more usable, even on a hot summer day. You can also add a better way to manage trash and dust inside the garage if you add a workshop to the space.
Another detail to attend to is lighting. Don't forget to add LED lights – the energy-efficient ones – and to find ways to utilize more natural light during the day. Lighting is the final piece of the puzzle here. Now that you have an organized space with tools and everything else you need, lighting the space properly will make it even more comfortable to use on a regular basis.