Garage Doors Matter
by Guest on Jan 4, 2012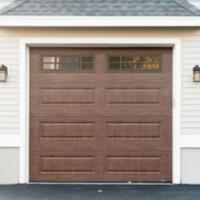 A garage door will add style and charm to your home. As an investment, it will add value to a home as well. The color, design, and state of the door will have a significant effect on the home's appearance and curb appeal. However, the look of the garage door is not the only factor; buyers must take into account what purpose their garage door will serve. For instance, will it also serve as a play area, family area, workshop, or utility room? If so, a door with excellent insulating properties will be paramount. 
The first step in determining the kind of garage door needed is the size. Nearly any opening will accommodate a garage door. An important step is to measure the opening, then take the measurement to garage doors to select the door that fits properly. Garage doors make up a huge segment of a home's exterior. Selecting the correct style that works well with your home's outside should be a priority. First, choose a panel design. On the whole, there are four basic panel styles to choose from. Those are:
-Painted Panels
These types of panels add zest to plain, raised panels. The slope section of the panel is the part that is painted in a contrasting color from the rest of the panel. 
-Short-Raised Panels
This type of panel adds another dimension and exclusivity to the door. Short-raised panels are perfect add-ons to period style homes with delicately meticulous trim, such as Victorian, colonial, or Tudor style homes. 
-Long-Raised Panels
This panel adds depth and character to garage doors. 
-Flush Panels
These are textured panels, with flat uneven designs that add a distinctive quality to the door while being modestly noticeable. 
Windows are another way to spruce up a garage door; they add brightness and style to doors and come in exclusive shapes and designs particular to the homeowner. Double-paned windows permit natural light in and resist severe cyclic temperatures. These are best suited when the garage functions as something other than a place to park automobiles. 
The two main materials for garage doors are either wood or steel. Both have their advantages:
Wood
Wood doors offer a broad range of options. They can be standard or raised panels. There are some that are replicas of the elaborate styles frequently utilized on carriage houses of times gone by. Wood doors also come in stain grade or paint.
Steel
Steel doors are normally more cost-effective than wood garage doors, and are usually the most common. Many producers propose several colors, which can be painted to match the buyer's home as well. 
Steel doors come in three types:
Single-layer steel doors are made from a single sheet of coated steel and are the least expensive.
Double-layer steel doors have a coated steel sheet on the exterior with thicker layers of polyurethane or polystyrene as support. The support supplies sound resistance and extra insulation.
Triple-layer steel doors are created from identical materials as double-layer garage doors with an extra sheet of coating on the interior to shield the polyurethane/polystyrene from harm. The triple-layer door is the sturdiest; most secure and sound resistant of all the garage door designs. 
Today, more homeowners are utilizing their garages for extra-curricular activities. As garage spaces become useful for many things besides parking a vehicle, garage doors have the perfect ideas, and will continue to serve the region with many great concepts and quality workmanship.