Oak or MDF Skirting for Style and Substance?
by Jason Mills on Jul 2, 2019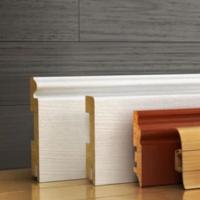 Skirting boards may not seem like the most exciting part of home decoration or renovation plans but for most modern homes they are a neccessity. Not only do skirting boards create a hard wearing join between walls and floors but they can also add style to any room.
With a vast array of skirting board suppliers available, you can now order skirting in a huge range of styles to suit the character of your home and also in a range of materials - the two most popular materials being MDF and oak. Both have their advantages and both have their drawbacks but whether to choose MDF or Oak skirting can be a tricky decision - especially as it is not the sort of purchase you make on a regular basis (unless you are a full-time home renovator).
Oak or MDF - That Is The Question?
MDF skirting has the key advantage of being fairly cheap - especially when compared to oak. Despite its lower cost, it can still look the part and although it may not be quite so hard wearing, in a home where it is not going to suffer multiple kicks and bumps on a daily basis it can last for decades. 
Oak skirting, on the other hand, can last for decades even with the constant abuse that comes with a busy household and so although it is roughly 3-4 times more expensive per meter than its MDF counterpart it actually offers good value thanks to its potential longevity. 
Both MDF and Oak boards can be primed and painted or oak can be treated to retain that natural look. All MDF skirting should be primed and painted to give maximum life span and will likely need to be repainted multiple times over the years.
Both oak and MDF can afford style whilst oak certainly wins in the substance stakes - but which one is best for your home is likely going to come down to budget and how busy your home is.