Overall Lighting Includes Indoors and Outside
by Guest Post on Oct 23, 2010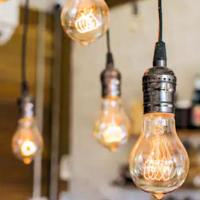 Try not to forget about outside illumination when you are considering home lighting changes. You may no longer need wires for these lights, thanks to LED and solar lighting. Outside lights can now run on natural power or small batteries.
Some of these LED and solar lighting fixtures look similar to your inside lamps. Let's face it, you now have the option to have nice lighting outside your home as well. With these beautiful outside lights, you may want to spend more time enjoying your deck and garden.
Because home improvements can sometimes take quite a bit of thought and money it is often good to do as much as you can at one time. This may save you time in the future. Several people often neglect the outside of their house when doing home improvements. This can be especially true of outside lighting fixtures. You might be surprised at the difference some beautiful inside and outside lighting can make.
LED lighting can be very economical. Unlike incandescent bulbs, these lamps can burn for a long time without wasting energy. This enables them to illuminate the outside of your home for the better part of the night without wasting energy.
You can sometimes get good illumination for your deck at night by using solar lights. Solar lights absorb sunlight during the day and then shine brightly at night for up to eight hours. These lights can be of similar design to your interior lights.
It could be good to choose lampshades of the same color or theme to be used in a room as this helps coordinate the areas. An example of this could be using one of the colors in striped wallpaper for your cushions and light fixtures. This can create a professional design look for your room.
You can partition a room into small areas with table lamps. If your living room or den is large and a place where there are many activities you can divide it with different lighting features. For example, you may consider putting a table and floor lamps in the sitting area and ceiling lighting where you eat. As an alternative, you can turn off lights in one area and use other illumination in another part of the room.
You can have matching glass shades in your indoor and outdoor lighting. You can improve the outside areas of your home when you select the correct lighting. Energy-efficient lighting can allow you to have your lights on outside for a longer time. Matching lights both inside and outside might just make your home look professionally decorated.
There are lots of choices available when it comes to indoor light fixtures, but you will also find a large number of outdoor lighting choices as well. Look around at many options before making your decision.