Kitchen Appliances Every Home Chef Should Have
by Guest Post on Jun 19, 2012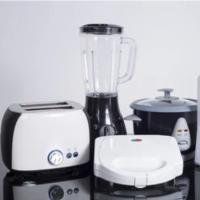 Technology has made our daily chores easy to accomplish. Nowadays, technology in the kitchen has changed the way we cook. Many appliances available in the market today, allow us to conveniently carry out our cooking activities in less time and with less effort. As a home chef, you must ensure that your kitchen is equipped with the following essential appliances.
Blender
As a home chef, you may need to mix or blend up different ingredients for recipes, smoothies, shakes, or purees. A blender is a vital appliance for any home chef as it makes these tasks effortless and saves time as well. You should buy a blender that has a powerful motor (about 500 watts) and a strong jar made of materials like heavy-duty polycarbonate or glass. You could also consider buying an immersion or hand blender as an alternative choice.
Food Processor
Also known as a mini-chef, the food processor is crucial in preparing a meal. It can perform multiple functions like grate, chop, slice, blend, puree, knead the dough and emulsify. It saves up a lot of time and effort and makes cooking easy and quick.
Toaster Oven
Putting money on a toaster oven is a wise choice. Even though it does take more area on a counter than a standard toaster but it can double up as a microwave and can be used to cook up little batches of food without using up as much energy as a conventional oven does. Moreover, it can be utilized as a warmer or toaster for bread, bagels, waffles, and French toast. A toaster oven can also broil sugar or melt cheese. You just need some broiler pans and baking sheets to start cooking.
Countertop Grill
The main aim of a home chef is to cook healthy meals to feed his/her family. If you do not own an outdoor cooking grill, then a small countertop grill can be used as a substitute. It can be used to grill fish, chicken breasts, or steaks. Also, you can make delicious Panini-style sandwiches using countertop grills. 
Electric Kettle
An electric kettle is a handy appliance to have in your kitchen. It boils water quicker than a standard stove-top kettle. Besides boiling water to make tea, it can also be utilized for other recipes like making instant noodles or soups.
Dishwasher