5 Dead Simple Ways to Upgrade Your Landscape
by Joe Goldstein on Sep 20, 2018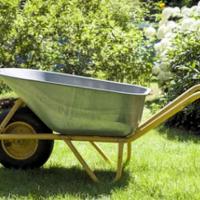 Landscaping an entire yard is a big job, but a beautiful backyard doesn't have to break the bank. With a little creativity and a little elbow grease, it's entirely possible to give your current yard a big upgrade. Follow these simple tips to get a better looking, healthier, and more fun yard without too much hassle.
1. Build a Pizza Oven
Have you ever had a wood-fired pizza? Usually, you have to find a nice Italian restaurant and drop a few bucks to get a rustic pizza, but building your own backyard pizza oven is much easier than you think.
There are actually dozens of different ways to approach a homemade pizza oven, but all you really need is a bunch of bricks, a foundation, cement, some basic tools and safety gear, and an afternoon. Pinterest is full of guides to build your own for under $100, but we think this guide from Instructables is a great place to start.
2. Mulch Your Garden
You might think of mulch as just an aesthetic choice but think again. Mulch has all sorts of real benefits for your garden, from combatting weed growth and retaining water to preventing erosion and insulating your roots, and a whole lot more. You can also use a variety of materials for mulching, from tree bark and hay to cardboard and sawdust, so you don't need to hold out for the fancy stuff.
3. Hide your Air Conditioner
Do you have a large air conditioning condenser that sticks out of your landscaping like a sore thumb? You're in good company. Unless you've switched to a ductless system, or unless you're lucky enough to have it hidden on a side yard, you're probably stuck with it in plain view of your porch.
But just because you can't move it doesn't mean you have to see it. Try building an enclosure out of fencing lattice, tile, or even scrap wood. Just be sure to build it bigger than your condenser so it has plenty of room to breathe.
4. Rent a Pressure Washer
If you're like most Americans, chances are good that you have a walkway, patio, or retaining wall that hasn't been cleaned in a while. The good news is that you can rent a pressure washer for as little as $40 which will make cleaning a breeze.
Once you start looking up YouTube tutorials, you'll probably be surprised by just how many different things you can clean with a pressure washer. The only bigger surprise will be just how different your yard looks after a good power wash.
5. Aerate your Lawn
Could your lawn look a little greener? Before you start messing with fertilizer and sprinkler systems, stop to ask yourself when you last aerated your lawn.
Aerating your lawn will help it absorb more water, grow deeper roots, and naturally take in ambient nutrients. It can also help repair worn patches if you spend any time on your lawn.
Aerating your lawn can be done with a specialized aeration machine or even just a regular garden shovel. Just look up the best time of year to aerate your type of lawn, roll up your sleeves, and get to work.