Top 3 Reasons to Buy a Ventless Fireplace
by Guest Post on Nov 2, 2011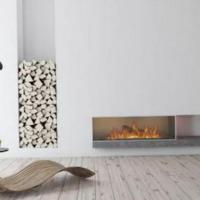 Have you been tossing around the idea of buying a ventless fireplace but you are not quite sure if they're worth it or not? Well, they certainly are! It does not matter if you choose a floor, tabletop or wall fireplace, they all offer some really exceptional benefits.
Stylish
If you haven't started shopping for a ventless fireplace yet, prepare to be pretty overwhelmed. Most people have no idea that they are available in such a diverse selection. Manufacturers have responded to the demand and these types of fireplaces are now available in every size and theme imaginable. Whether your vision is to have a contemporary wall fireplace or a small simple one that sits on a coffee table, you will find everything you want and more.
Environmentally-friendly
You won't find a more environmentally-friendly way to stay warm this winter. A ventless fireplace either operates by electricity or clean gel fuel which does not pollute the air. Many people don't stop to think about where all those toxins are going when they burn real wood. Well, they have to go somewhere.
Not only are you polluting the environment, you are polluting your lungs. There are just as many carcinogens in wood-burning smoke as there are in cigarettes yet many people subject themselves, their families and their pets to these toxins day after day. This is why hospital emergency rooms are packed with people having asthma, allergies and respiratory issues as soon as it starts getting cold enough to light a fire.
A ventless fireplace also does not contribute to rainforest depletion. This means that you are not causing animals to lose their homes and food sources every time you light a fire. There are alternatives today so it is no longer necessary to force animals into extinction.
Maintenance-free
Wouldn't you rather have a stylish wall fireplace that doesn't require any cleaning than the one you have to tend to every day? Traditional wood-burning fireplaces are a lot of work. Not only do you have to put forth the effort to get it going and continue to poke and feed it, but you also have to clean it out every day. If you have never done this you should know that it is not a fun job! Scooping up ash and soot just to do it all over again the next day hardly makes sense. A ventless fireplace allows you to either turn it on with a remote or light a can of gel fuel and you're done!
Loren Taylor writes for The Soothing Company which is a leading internet retailer of all things soothing. A large selection of water fountains, bean bags, fireplaces and other products to help bring serenity to your life.
A ventless fireplace is an exceptional way to add warmth and ambiance to your home. They are stylish, maintenance-free, and environmentally friendly. Not to mention, they are available in a vast array of different styles.