Paint a Straight Line for a Professional Finish
by Guest Post on Mar 26, 2010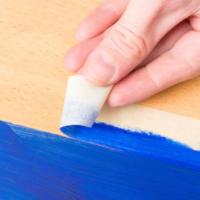 It can honestly be said that sometimes something as simple as a straight line can make a huge difference. When you are painting, knowing how to paint so that the finish is neat and even can mean the difference between adding value and beauty to your home and taking away from the same. Straight lines and clean trim make the room look professionally styled, and will really improve the overall look of the décor. There are several ways to discover how anyone can paint in a straight line with some care, patience, and effort.
Contrary to everything you learn in painting class, you do not have to paint the room before the baseboards, trim, or molding. In fact, it is better to start by painting these objects instead of finishing with them. It is much simpler to touch up the trim than to go back and touch up walls, and trim touchups are much less noticeable overall.
Start by painting all of the trim, including baseboards, doors/window trim, molding, and similar areas. Give this coat at least one full day to dry, and then add painter's tape on all sides. You may choose to allow a few more hours for drying if the weather is cool, depending on the area you live in and the quality of paint.
Once the paint is dry, and the tape is applied, paint away in the room. You can do this one wall at a time, or do all four walls at once, depending on your schedule or budget requirements. Make sure that the entire room has had at least a few hours to dry before you remove the tape from the trim. In most cases, it is best to wait about eight hours, and then remove a test strip in a less conspicuous part of the room. This will ensure that your paint does not come off with the tape.
After you remove the tape, touch up any areas that need some work. Allow it to dry, and the room is ready for furniture and accessories. Remember to allow extra drying time during the winter or cold weather, since it takes longer, and for larger rooms. If you are painting the ceiling, consider doing that immediately after the trim, to prevent drip mistakes on the walls after they are completed.
If you are painting a rough wall, add a coat of base paint to the tape to prevent bleeding. Bright colors tend to bleed more, so make sure that the base paint is the shade of the wall or trim under the tape for best results. Press down firmly on the tape, and paint with a wider brush to ensure maximum efficiency and professional results.
Surrounding areas that are wood, smooth, or paneled need special attention. Instead of tape and paint, add clear acrylic varnish as the base coat over the paint. If there is any bleeding, it will be absorbed into the clear coat instead of seeping into the surrounding area and creating a mess that is nearly impossible to fix completely.