Challenges Posed by Basement Remodeling
by Guest Post on Apr 14, 2010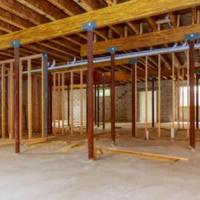 One mistake that many homeowners fall into is looking beyond what their homes have to offer and plunging into a costly basement addition. What they have failed to realize is that the perfect answer to their space issue is just lying around an unused area. Maximizing unused space poses a better and less expensive option than tearing down walls and building extensions, thus making the basement remodeling the ideal solution.
Dark, rough, unfinished and empty… The typical features of a basement may make it quite difficult for you to imagine the wonderful things that you could create out of it. Before realizing an attractive and functional finish to your basement remodeling project, you first have to deal with the challenges these are:
Visible Ductwork
In basement remodeling, there are several ways that you could hide the ductworks but each can pose a disadvantage. If you decide to cover the unsightly jumble of pipes and tubes evenly, you would have to deal with a lower ceiling. You can opt to have the ductworks framed in boxes, leaving some areas of the ceiling higher than others. A high and even ceiling can be achieved through an extensive as well as the expensive job of moving the ductwork.
But if your budget cannot accommodate the latter, any of the other options will do as long as access to plumbing and wiring is still made easy. The trick is to use elements such as reflection and light, which could help create an illusion of a higher ceiling or help divert attention away from the flaws.
Water and Moisture Issues
Water and moisture proofing measures should be taken even if your basement does not have problems with any. Dealing with this current or future problem helps you and your family enjoy the basement remodeling better and also adds years to the project result. The measures to be taken depend on the level of water and moisture issues which range from construction of a more reliable drainage system to installing proper ventilation and insulation, to applying concrete waterproof sealers.
Lighting
The subterranean nature of the basement makes it less accessible to natural light and typically darker than the rest of your New York home. To maximize your use of sunlight, you can widen your windows or have them replaced with models that permit more natural light in. When shopping for lighting fixtures to integrate into your basement remodeling project, choose those that offer more intense lighting.
Heating and Air-conditioning
With the help of a professional, find out if your current heating and the air-conditioning system can already accommodate the additional living space resulting from your basement remodeling. If this is the case, consider zoned cooling and heating. But if the system is not enough to work for the entire home area, then you can have a separate system set up.
Support Columns
The elimination of the existing support columns is another more expensive solution that you can undertake. But with creativity, you can effectively work around this basement remodeling challenge by including them in the layout and design.