4 Signs It is Time to Replace Your Roof
by Matt Hopkins on Jul 18, 2018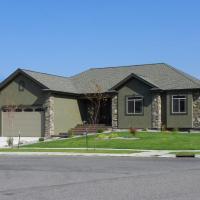 Regardless of how durable and resilient your roof is, you will eventually have to repair and even replace your roof. Since it's difficult identifying if it's time to repair or replace your roof, we've created a list of four signs that will make you sure it's the right time to update your roof. 
1. Age
Despite common belief, roofs don't last a lifetime. In fact, roof repair and replacement are usually needed within a few decades. While it's hard to pinpoint an exact year you should replace your roof, 20 years is a good estimate. If you don't know when your roof was installed, you could always contact your landlord, or even play it safe and replace it anyway. 
2. Appearance
The appearance of your roof tells a lot about the condition it's in. Firstly, glancing at your roof from the outside of your home is an easy way to see if it's worn. If you feel comfortable, getting a closer look at your roof will allow you to see if it has any stains, cracks, or missing shingles. If your roof has any of these damages, then you should consider replacing your roof as soon as possible or you run the risk of more serious damage occurring. 
3. Leaks
There are two kinds of leaks you should look for: water and light. If you notice water leaks after inclement weather, then your roof is most likely not as durable as it used to be. Even if your roof only leaks a little bit of water, you should make sure your roof is repaired or even replaced as soon as possible. If not, your roof might become further damaged, which could ultimately negatively impact your entire home.
The other kind of leak you should look for is light. If you notice light leaking into your attic or ceiling, it's most likely a sign that your roof is missing shingles or has lost its resistance. 
4. Higher Energy Bills
Your roof doesn't only act as a shield between your home and inclement weather. In fact, your roof is actually a form of insulation that helps regulate the temperature in your home. If it's time to replace your roof, then you should notice a change in your home's temperature. This ultimately influences your home's utility bills because you would have to use your heat or air conditioning to make up for the temperature change.