The Two Biggest Fears in Commercial Roofing
by Constructors 911 on Feb 1, 2022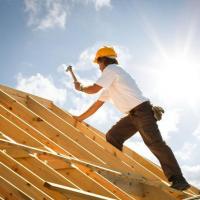 Commercial roofs have a low slope and are flat; they need more maintenance than residential roofs. There are many ways you can maintain your roof and can keep it from leaking and other damages. From spray foam roofing to silicon restoration, you can opt for any option but there are many things you might feel concerned about. We're going to address your fears about commercial roofing and how you can manage to get the best commercial roofing. Also, we'll be telling you how you can maintain your commercial roof in a way that best suits your budget and your style. 
The two biggest fears in commercial roofing include:
What if we spend thousands of dollars on a particular roof and it starts to leak after two years?

What if the roofing contractor gives me a warranty of 10 years and goes out of the business after 3 years?
Your fears are legit and they often happen with owners where they get their roof repaired and it starts to leak after two years or simply the contractor goes out of business.  There are certain steps that you can take to ensure that this doesn't happen to you. We are going to give you suggestions to avoid these kinds of conditions.  
Fear no: 1 what if we spend thousands of dollars on a particular roof and it leaks after two years?
Building owners often have this fear because if the roof is simply going to leak after two years, their cost of business will increase. So, you must make decisions after making sure that you have chosen the right people to do your work. Here are some suggestions that can help you.
Ask the contractor for a customer reference sheet
You can ask the contractor to provide you with a customer's reference sheet that contains the contact information of the customers to which the company has provided the service. While you are doing this, keep in mind to ask those customers who had a service similar to the one you are going to get. For instance, if you are going for the restoration of metal roofs or maintenance of your gravel-built-up roofs ask the customers who had these services. You can ask for their experience regarding the whole service and whether you should choose this contractor or not. This is one of the most reliable methods to find out whether the service of the company is worth your money or not. 
2. Check out their Google reviews:
Rather than checking reviews on the company's website, you should check them on Google. Most of the time people give reviews when they are too happy with the service or dissatisfied. When you'll check the reviews on Google reviews, you'll get a fair idea of whether you should go for it or not.  
3. How long has the company been in the business?
This is an important question because how long they have been in the business might also determine whether they are going out of the business in two or three years or not. The longer the company has been in business, the most trustworthy it'll be to the customer. Although every company starts with zero and builds with time if a company is in the business for more than 50 years then they are probably doing something right.
Fear no: 2 what if the contractor gives me a warranty of 10 years and goes out of the business in two years?
Nobody wants their money to go wasted. So, this fear of warranty is valid and should be addressed. After the roof is installed or repaired, it needs regular checkups to see for any kind of damage or leakage. The company should be contacted for this purpose. What if you dial the number of that company or contractor and it doesn't get answered. 
There are certain points that you can keep in mind to avoid these kinds of situations.
1. Company's length of service:
You should always ask for the company's longevity because if a company that is 2 to3 years old is giving you a warranty of 15 years then there must be something dodgy going on. Although companies start from scratch, older companies build their trust by providing quality services. Otherwise, if you want to give a chance to a new company, you can still go for it. 
2. Get a manufacturer's warranty:
Now, if you feel like the contractor's warranty is not enough, you can go for the manufacturer's warranty. This will help you a lot as the company will provide you with another contractor if the contractor with which you were working leaves the work so that you can get your repairs done. One thing you should make sure of is that if you are getting a manufacturer's warranty, you should also write them in the contractor's warranty, otherwise it will mean nothing.
Also, some of the best companies that provide roofing services check the contractor's work before letting them use their products. So you should opt for these kinds of companies. 
3. Choose a contractor that has a dedicated service department:
This is a bonus point if you want to make sure that you get the right contractor. Contractors who have service teams immediately send staff if there is any damage to the roof.  They know pretty much everything about your roof and where repairs are needed in your roof. 
What are some other steps that you should take to ensure a reliable contractor and company?
You should contact different companies for this work. The logic is to get to know as many companies as you can and then to choose the best one. 
You can collect the information from these companies and then can check their Google reviews. You might miss the deals and opportunities if you go with only one contractor. Try to collect opinions and see what people say about these different companies. The reason behind so much work is that you are going to spend a lot of money and if you don't want it to get wasted. 
You don't want a contractor that will leave you with no budget and a leaking roof.