Best Roof Coating - Liquid Roof
by Guest on May 27, 2010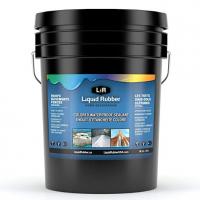 Liquid-applied roof coatings have proven themselves as useful tools for roofing professionals to restore and protect existing roofs. They can be extremely durable and used as the first line of defense in the roofing envelope, offering further protection to other components below. Liquid roof coatings are aftermarket products designed to extend life, seal leaks, and provide a heat-reflective or aesthetic function over existing roof surfaces.
There are many products on the market ranging from asphalt-based products, rubber solutions (Hypalon, Neoprene, Silicone), water-based Acrylic and other emulsions, and chemically curing systems such as Urethanes. Liquid Roof forms a 100% chemically-cured seamless White membrane every bit as solid and attractive as factory-installed sheet rubber. Liquid Roof's simple one-coat application by brush or roller saves you time and money, sealing and protecting your RV from water damage.

As far as the application of liquid roof is concerned, it offers compatibility to a large number of surfaces such as metal, concrete, fiberglass, fabric, foam, rubber. It may be applied on roof decks, metal roofs, gutters, structural steel, air conditioner enclosures, cooling towers, galvanized steel, unit heater flues, smokestacks and chimneys, fiberglass, nonporous masonry surfaces, pool liners, underground room waterproofing, and channels. It is also excellent for wood, canvas, cement, or metal roof repair over large surface areas. One most important advantage of using a liquid roof is that it does not require a top coat, primer, or additional applications like many other roofing products.

Liquid roof ideally can be used for many types of roof repair. One of the most important Liquid Roof Repair applications in RV Roof Repair. Liquid roof sticks to the entire types of facades- canvas, plywood, studs, cement, mass rubber, customized roofing, additional roof coverings, strengthen, timber, top tiles, genuine tiles, solid, and many more. It is the most cost-effective and efficient product for solving the RV Roof Leaks Repair problem as it does not chalk, shrink, crack, peak or flake.

There are some tips that must be kept in mind before applying liquid rubber to your roof. Be aware that it is a 3 to 6 hrs process, excluding the surface preparation time. Once the liquid EPDM Rubber is applied, it takes around 16 to 20 hours to dry up. Therefore proper management of time is necessary. Careful planning regarding weather conditions should be done as well, i.e. one should plan to work on days when the rain is not expected because although Liquid Roof will immediately waterproof, even when wet, avoid heavy rain until it is completely dry to the touch which means 16 - 20 hours after application. To be on the safe side, one can say that a full cure will be achieved in 4 - 10 days after application, consistent 70 deg F.

The common advantages that Liquid roof coatings offer are countless. It is waterproof, has high compatibility with almost all types of surfaces, is very flexible and elastic and can withstand a large temperature range from -62 degrees F to 300 degrees F without cracking. All I can say about a liquid roof is that It's the best and the roof is the most important aspect of a house and the liquid roof is the one that can take care of it properly.