6 Best Ideas to Increase the Curb Appeal of Your Home with Landscaping
by Brenda Vollman on Apr 11, 2018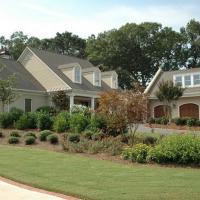 A perfect landscaping is one of the best ways to improve your home's curb appeal and can lure potential buyers to your front door. Upping your landscape game will also leave a lasting first impression on your visitors, and ultimately add value to your home. The best part is that landscaping is one of the easiest and most affordable ways of maximizing your curb appeal.
Here is a rundown of the 6 best ideas to increase the curb appeal of your home with landscaping.
1. Highlight your Porch and Front Door
The front door is often the focal point of the home's façade. It's one of the first places that your visitors will see when they visit your home. As such, it's important to make sure that it's effortlessly clean and welcoming, which will help create an at-home feeling.
If yours is a teak or concrete patio, pressure wash it. When the teak dries, apply a sealer to protect it and have it look new. Remove any mildew and dirt on the siding and steps. Pressure wash the tile and forcefully remove grime and dirt. When your visitors see the clean patio, they will immediately know the home is well kept.
Create an inviting statement by installing a custom door or giving your door a splash of color. Adding details such as a custom doorknob or a seasonal wreath can easily grab attention and reflect your personal style.
Put up functional furniture on your patio and make it comfortable by adding throw pillows. Be sure to choose the colorful ones to help create a cozy setting. You can also use fresh flowers, greenery, and outdoor area rugs to add some color to your patio. Don't forget to get lighting fixtures for use at night.
2. Make Good Use of Paving Stones and River Rocks
Although they are a typical sight in many neighborhoods, concrete driveways tend to age and crack, becoming quite unattractive.
Stamped concrete is a great alternative, which provides a similar design and color for your front yard. However, you can achieve an even more premium look with paving stones or achieve a countryside feel by using river rocks.
Opting for hardscape materials such as paving stones for your walkways, driveways, or front porch allow for easier maintenance when required since only one or two pavers will need to be replaced at a time. Concrete repair typically requires redoing a large portion and it's quite difficult to match the initial color.
As a tip, if you intend to redo your entire walkway or create a new one, a broad path with gentle curves is usually much more alluring than a narrow, straight walkway that leads straight to your front door.
3. Add some Color to Your Landscaping
The front part of your yard, along with the driveways and walkways, as well as directly in front of your home are some of the best spots to enhance curb appeal. Incorporate different plants of different sizes and colors into your flowerbeds to make them extra appealing and grab the eyes of the passersby. Installing creative lighting will also help illuminate your space even at night.
It's best to choose plants that complement the strengths and style of your home. Whether you'd prefer dense shrubs for privacy or bright flowers, take some time to plan and avoid planting carelessly. A great idea is to mix complementary tones and shades with containers and planters if you don't want the colors of the flowers/plants to mimic that of your home.
Check out your local garden center or the Farmer's Almanac to find out when's the best time for planting different kinds of shrubs and flowers in your area, and more information on how to tend to them.
4. Add an Arbor, a Gate, an Attractive Fence or Art to Your Garden
If you have the space, adding these features can help enhance the curb appeal of your home significantly.
Pre-fabricated fence panels or garden arches are relatively easy to assemble and install, and they can be painted or stained to match the exterior décor of your home. The only maintenance required for these features is usually a new coat of stain or paint every few years.
A single birdbath, water fountain, of stone statue can work wonders in your garden. However, be careful, as it's easy to overdo it with garden art. Don't make your yard look cluttered and take the focus off your home by installing too many pieces of outdoor art.
Water features often require regular cleaning and maintenance, which might be a problem if you don't have a professional landscaping company to do the work. Instead, you might want to go with a metal or stone statue that will only require some occasional rinsing off to stay pristine.
5. Use Attractive Ground Cover to Cover Patches of Dirt
There's no excuse to have bare dirt patches in your front yard. There are many low-cost ground covers like mulch, gravel, bark, and wood chips, which are also easy to install and maintain. As an added benefit, they limit the growth of weeds, require no water, and are relatively easy to freshen up with a new layer in case sunlight or harsh weather steals their color.
Visit your local garden center and get some hardwood-shredded mulch for your plant beds. Adding colored mulch that matches the architectural style of your home's exterior can really wow your visitors and potential homebuyers. For example, pine bark or pine nuggets will match a rustic look and produce a more rustic curb appeal.
6. Increase your Parking Space
If you have an oversized lawn or an unnecessary side yard, consider using some of that space to create an additional parking area. Today, the standard two-car driveways can rarely meet the needs of most home buyers, most of whom are often looking for ample space for their RV, guest parking, a boat, or their kid's car.
If you don't mind splurging a little extra on it, a paving stone parking can be a really appealing addition to your home, which would not only be functional but also add to your home's curb appeal and increase its value.