Roof Restoration: Future Proof Your Home
by Guest Post on Jul 6, 2011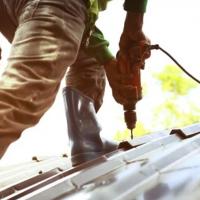 It is easy to neglect your roof when it comes to home maintenance and restoration; because roof damage and deterioration are so difficult to see, we tend to ignore it until something bad – like a leaky roof – actually happens. By this time, what could have been a minor repair has often turned into a major renovation.
Thankfully, these situations are easily prevented – a high-quality, professional roof restoration every 10 to 15 years can protect you from the cost and inconvenience of unexpected roof repairs.
The benefits of roof restoration are numerous; as well as the obvious aesthetic advantages, a good restoration will protect roof tiles from exposure to moisture, which can lead to deterioration of tiles and rotting underneath. Roof restoration also makes your roof safer in high winds and foul weather – including hail – protecting you and your family from violent storms and helping to prevent costly damage.
The coating applied during restoration shields the roof from UV rays that break down-pointing mortar and prevents pointing from expanding and contracting, which can lead to small cracks. Further, this coating prevents the pointing from pulling away from the ridge capping, protecting one of the most leak-prone areas of the roof.
For households that have rainwater tanks, a roof restoration will make the water that runs off the roof cleaner. And those who opt for energy-efficient reflective roof coatings as part of their restoration will have a cooler house in summer and a cheaper annual power bill.
Essentially, when it comes to roof restoration, the old adage certainly applies - "prevention is better than cure". Take good care of your roof and it will take care of you, your family, and your belongings for many years.
The Modern Group is one of Australia's leading roof restoration specialists, with over 30 years of experience in the industry and more than 300,000 happy customers Australia-wide.