The Latest Trends in Metal Roofing
by Guest Post on Jan 19, 2010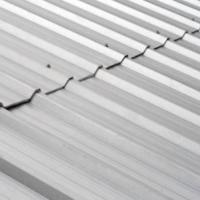 The latest innovation today is metal roofing. Available in a range of appealing materials, today's metal roofing offers strength, flexibility, and permanence to compliment any home design. Metal roof contractors prize metal roofing for its beauty, endurance, and renovation-friendliness. Whenever metal roofing installation is being considered, aluminum is a natural choice because it offers strength and durability along with a lightweight.
In fact, within the aerospace industry, aluminum is the number one metal choice, so it is no surprise that aluminum's desirable qualities make the material just as popular among metal roofing contractors. The lighter weight of aluminum makes it easy for homeowners to re-roof, reducing the weight of their current roof while enjoying the beauty of the latest metal roofing. No structural reinforcement is required as might be the case with slate or tile roofing materials. And because aluminum roofing resists corrosion and rust, it is an ideal material for use in coastal environments.
Finally, aluminum is supple and flexible, which allows for greater creativity for an intricate or delicately formed roof, with no loss of strength or beauty. Galvanized Metal Roofing One roof that is truly as strong as steel is galvanized metal roofing. One specific type of galvanized metal roofing is manufactured under the brand name, Galvalume, North America's fastest-growing coated steel construction product. This metal roofing is made with galvanized steel. It is strong, resists common outdoor corrosive forces, and is highly durable at twice the rate of regular galvanized metal.
Galvalume provides outstanding properties of heat reflectivity. This places a lower energy load on buildings and contributes to greater comfort inside the building. A Galvalume metal roofing installation looks terrific on every home and offers extremely low maintenance and wonderful energy savings. In fact, metal roofing manufactured by Galvalume has been tested by the Florida Solar Energy Center and has passed UL 90 wind tests based on its weight and strength.
This means this metal roofing installation can withstand 155 mile-per-hour winds. Today's metal roofing made with galvanized steel is suitable for residential use and is typically coated with zinc (g90) or a combination of zinc and aluminum (AZ50) to ensure resistance to corrosive elements. Additional benefits of galvanized metal roofing include excellent strength, greater resistance to wind uplift, which can damage a roof, and a variety of applications compared to other metal roofing materials. Of course, this means homeowners can also enjoy a wider variety of pricing and products than can be found with other types of metal roofing. Many metal roofing contractors are available to assist with the installation of your metal roof.
Homeowners who want to live more "green" and wish to reduce their energy bills and add much-needed value to their homes are pleased by the energy efficiency and environmentally friendly elements of metal roofing.
Metal roofing installation also qualifies homeowners for an energy tax credit of up to $550 per year, courtesy of the United States Energy Policy Act of 2005. Simply use IRS Form 5695. If you do not plan to move for several years, a metal roof installation investment is a good one, even if you never receive the tax credit, simply because of the savings in home energy expenses.
Metal roofing installation upgrades include "cool metal roofing", a solid, good looking metal roofing solution that saves up to 40% on annual energy costs depending on where you live. The secret to this metal roof's ability to save energy lies in its finish. The typical dark asphalt roof traps heat inside the home. Basic metal roofing that is unpainted reflects the solar energy your asphalt roof would usually absorb. Homes in warmer climates are best suited to granular coated (pre-painted) metal roofing that reflects solar energy and cools the home by re-emitting absorbed solar radiation. Best of all, metal roofing is created from recycled materials, and metal roofing installation can be done directly over your asphalt roof. Overall, metal roofing:
Reduces landfill waste
Offers a quicker installation
Provides many years of environmentally responsible roofing
Is maintenance-free
Adds beauty and value to your home
Offers a Limited Lifetime Warranty
It is expected to last more than 150 years If you are ready to transform your home using beautiful, energy-efficient, long-lasting metal roofing, today is a great day to begin.