8 Ways to Create More Space in Your Kitchen and Dining Area
by Guest Post on Jan 4, 2019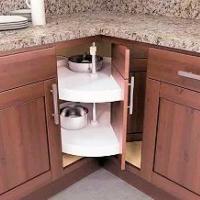 It can be frustrating if your kitchen and dining spaces seem too small to contain all of the supplies and other items you own, but it doesn't have to be that way. With a bit of creative ingenuity, you can create valuable space in these areas.  
The key is to think outside-of-the-box. Look for areas in those rooms that have unused space that you wouldn't typically utilize. For example, although most people may think horizontally in terms of space, consider thinking about how you can use space vertically — especially in the kitchen.  
Here are some space-saving ideas to get you started.  
1. Kitchen: Install a Pot Rack 
No one can argue that a well-stocked kitchen has to have essentials, such as a set of pots and pans. With those pots and pans come lids, too. Although no cook can function without cooking vessels, they take up valuable real estate in the kitchen — especially if you store them in a cabinet.  
The good news is that you can take advantage of vertical space by installing a ceiling-mounted pot rack. If you have limited ceiling space, you can choose a pot rack with integrated lighting, which will give you a dual-purpose item.  
2. Kitchen: Use the Oven for Storage 
When you have limited space in your cabinets, consider using the oven for storage. If you use cast-iron pots in your kitchen, those are often too heavy to store on a pot rack, but you can easily stack them and store them in your oven.  
Other items like baking sheets, muffin pans, and cooling racks can also go in this space. Just remember to remove them before turning on your oven to preheat.  
3. Kitchen: Employ a Portable Workstation 
If you've always wanted an island, but the space in your kitchen just won't allow a permanent fixture, make a portable one. There are plenty of ready-made carts with wheels that have a workspace on top and storage on the bottom.  
Or, if you're feeling like a do-it-yourself project, you can build your own portable kitchen island/workstation and attach wheels to the legs. Then, you can roll it into the kitchen when you need it and roll it out of the way when you don't.  
4. Kitchen: Streamline Your Kitchen Tools 
It's easy to accumulate things you don't really need — or have the extra space for. Take an inventory of the items in your kitchen to see if you have any duplicates. For example, you might have four or five baking sheets.  
You also may have a wealth of items like serving platters or utensils — some that you never actually use — that you can pick through. Decide what you want to keep and donate the rest to someone who needs them. Other donation considerations are small appliances that were gifted to you that you've never hardly used.  
5. Kitchen: Consider Open Shelving and Hooks for Storage 
Even if you have a plentiful amount of countertop space, you don't want to clutter it with items that could be better stored elsewhere. Think about available wall space as an alternative. Install open shelving to store items that you would normally display on a countertop.  
A piece of pegboard with hooks can serve as an area to hang various utensils. You could even hang lighter items that have a handle, such as colanders. Small hooks can also be installed under higher cabinets to hang coffee mugs.  
6. Dining Room: Get Creative With Seating 
A traditional dining room seating is nice, but when space is at a premium, you'll need to get creative to maximize the available area. One idea is to install a fold-out table on an available wall. This out-of-the-way option can save a lot of space, especially if you choose chairs that can be stacked and put aside when the table is not in use.  
Another option is to create booth seating. If you have an available corner in your dining area, you can choose to build seating along the walls with hidden storage areas to maximize space.  
7. Dining Room: Use Dual-Purpose Furniture  
Perhaps you use your dining area as a workspace. If this the case, consider buying an attractive secondhand piece of furniture that has a dual purpose and can function as a desk and table or a desk and serving area. Then, use it for the purpose you need. 
8. Dining Room: Add a Mirror 
Although this idea doesn't actually create more physical space, it offers the illusion of it. Hang a large mirror on a wall in your dining room. If you can hang it across from a window, that's even better. The mirror will reflect light and the view from the window to give the impression that your dining area is more expansive than it really happens to be.