How to Choose the Best Step Ladder for Your Kitchen
by Andy Harrison on Feb 23, 2018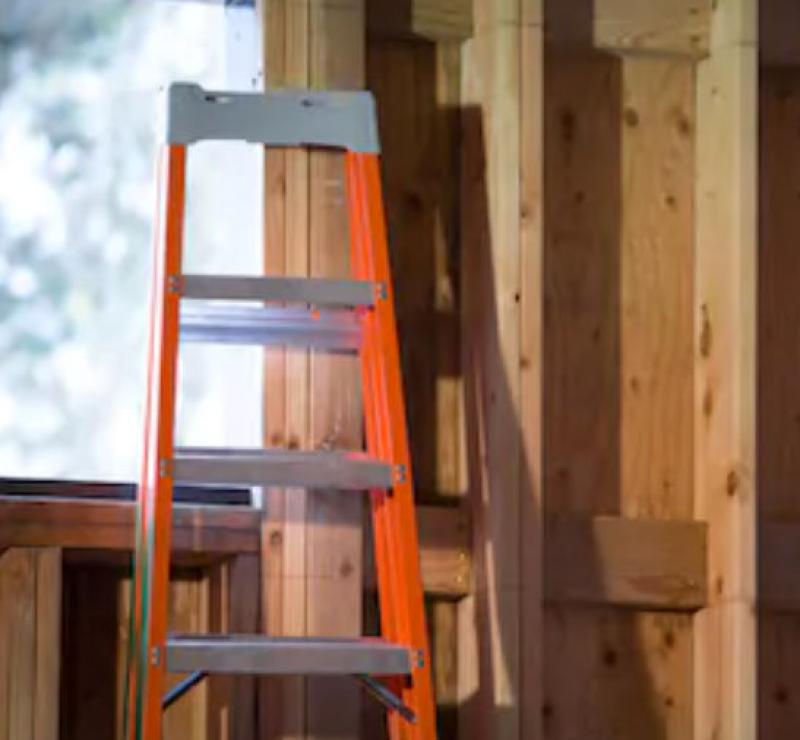 Unless you are the tallest man in the world, you are going to need a step ladder at some point in life, especially when working in the kitchen. With our modern kitchens designed with bigger and higher cabinets and shelves, it is inevitable to want to reach such high areas whenever you need to retrieve ingredients or utensils, or when you want to clean up or arrange the area.
Buying a high-quality step ladder will help you a great deal in ensuring you access hard to reach areas faster, easily, and safely. It beats using a stool or stacking chairs onto tables and climbing on them, which is quite dangerous.
One question most buyers ask is how different a kitchen step ladder is from the other types of step ladders. The first difference is that kitchen step ladders are ergonomically built specifically for kitchen use with space-saving and versatile designs that will not take up so much space in the kitchen and they can be used as stools or shelves. Kitchen step ladders are also quite minimalist, with their main purpose being to help you reach higher areas, unlike outdoor ladders and those used in garages and construction sites, which must come with extra functionalities and features to cater to the rugged and rough environment. Are you planning to purchase a step ladder for your kitchen? Then this guide offers the right guidance on how to choose the best one.
What are Your Climbing Needs?
Knowing your needs in the kitchen will help you know the exact type of step ladder to choose from. There are different types you can choose including the single-sided, twin, folding, and multi-position step ladders among others. If you want one that can be used on both sides, then the twin is better than the single-sided ladder. For space-saving needs, the folding design is your ideal choice, and if you want to be able to achieve different heights with a single ladder, then the multi-position design is the best, and it can also be used on stairs. Choosing the right type will ensure safety and effective use in the kitchen. If buying online, check the reviews and descriptions that match your needs. If purchasing offline, then you need to talk with the store attendant to ensure that you get a step ladder that will cater to all your needs.
How High Do You Want It?
The height of the step ladder or stool can be determined by the maximum height you need to access in the kitchen. A ladder that will allow access to the ceiling should be higher than one that will be used to access shelves and cabinets. If you want to access different heights using the same ladder, then one with adjustable heights such as a multi-position or an overlapping step ladder. The safest and most effective way to choose the right ladder height is by checking out the height safety charts offered by different manufacturers. For taller ladders, you must ensure that the highest height can be accessed without stepping on its top two steps. This prevents the risk of the user falling off or having it collapse while in use. Picking the right height of the ladder will ensure your safety is maintained and that you can easily access hard to reach areas within the kitchen.
How Much Weight Will it Accommodate?
Otherwise known as the weight limit or the duty rating, this refers to the maximum weight that can be accommodated by the step ladder. You have to ensure that the duty rating of the step ladder you buy is higher than the weight of the user plus that of the tools and materials to be carried up the ladder. While most kitchen settings do not require carrying heavy materials to higher spaces, it is usually safer to buy one with a high duty rating. Before climbing up the ladder, it is recommended that you step onto weighing scales while carrying the materials and tools with which you want to go up the ladder so you can know if you have exceeded the duty rating or if it safe for you to use the ladder.
How Sturdy Do You Need it to Be?
While some homeowners prefer subtle designs to match their kitchen décor, it is usually a genius to choose a more sturdy design that will put up with the weight of the user. The sturdiness of a step ladder will depend on the materials used and build quality. The most common materials used include aluminum, stainless steel, wood, fiberglass, and iron among others. In addition to the materials being strong, the quality of the construction should be solid and strong to ensure durability and sturdiness. Both its body and surfaces should be resistant to scratches, corrosion, rust, and breakage. Additionally, the movable parts and joints should also not look flimsy or weak.
What Safety Features Do You Desire?
Are you concerned about slipping off the steps as you climb up the ladder? Then find one with rubberized or treaded steps. If you are afraid of the ladder slipping off the floors, then you should find one with anti-slip legs. You can also search for one with rubber grips for holding onto when climbing up the stairs. To secure the ladder into place when climbing, there should be locking features, especially if you are using a foldable or multi-position step ladder. Different manufacturers offer countless safety features, so it is important to research thoroughly before deciding on which one to choose
Verdict
Finding the right step ladder for your kitchen is surely a blessing for most homeowners. Choosing features carefully using the above steps will help a great deal in finding the perfect one for kitchen use. If you desire extra features, then it helps to go through reviews and testimonials from other users. You could also find one that camouflages into a shelf for your flower vases or a side stool. You could also find one that folds up to save space. When choosing a step stool or ladder for your kitchen, there is no limit to whatever features you can get from your budget. All you need to do is research properly and be patient and wise when purchasing.