6 Steps to Choose the Best Retractable Awning for Your Home
by Sally Smith on Dec 23, 2019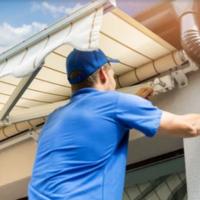 Outdoor awnings are an excellent investment primarily because it covers you figuratively and literally. First, if you need a place to rest outside your house, a sunshade protects you from the sun, snow, and rain. Secondly, if you're holding a barbeque party, the canopy got you covered as it provides a comfortable room as the house would, for your guest. Thirdly, there are many different designs of retractable awnings most of which will increase the value of your house.
However, if you have folding arm awnings which means it's retractable, you need to know it might not withstand harsh conditions. You, therefore, have to retract it when there is strong wind or snow.
To benefit from motorized awnings or any other awning, you need to consider various steps or factors.
Steps to Follow When Choosing Ideal Retractable Awning
1. Material
The awning comes in various materials, but the most popular are aluminum and fabric. An aluminum awning has a minimal maintenance routine. However, choosing an aluminum awning means you'll have limited design and color. Fabric awning, on the other hand, comes in various colors and design but require regular maintenance.
The other awning materials include canvas, PVC, acrylic, and polyester. It is crucial to consider the factors that would affect your awning and choose the best material against those factors. For instance, when canvas and PVC are exposed to moisture and sunlight, they wear off fast.
2. Size
The second step after choosing the ideal material for the awning is size. The size covers two factors. First, you could install a small awning for decorative purposes. The other factor size of the awning covers is protection against UV rays, rain, or snow. Nonetheless, you could choose a bigger awning that would still serve the purpose of decoration and security based on its design.
Ideally, window awnings are smaller as compared to patio or side panel awnings.
3. Design or Style of the Awning
Notably, every house has a unique design. Shade and blind companies, therefore, manufacture various awning designs to fit different home designs. Some of the most prevalent awning designs include a waterfall, gable walkway, semi-circular entrance, dome-style, closed or open sides, and double bar standard.
4. Choosing Angles
Choosing angles for your awning is a crucial step. Why? The angle at which an awning has been installed determines how much you'll save on energy bills. The correct installation of an awning means good coverage during summer, and thus sunlight is limited from getting into your house. It means your AC will not be on throughout the day because, ideally, the awning is serving its purpose correctly.
Ideally, if you're installing an awning on the east or west of your house, it should be 65-75 degrees. If on the south or north, install the awning between 45 and 60 degrees.
5. The Color
Bright awnings stand out amongst the rest. Moreover, bright colors don't retain heat and thus assure you of a relaxed afternoon during summer. Colorful outdoor awnings reduce by up to 20 degrees from the surrounding temperature. However, you need to choose a color that matches your existing outdoor color. Ideally, you should choose a color that complements your indoor and outdoor styles and colors.
6. Installation
Where are you placing the retractable awning? Is your house wood-framed, cemented, or has stucco? Each awning model works differently with various house models. So, an awning might work on the wood-framed house but won't on a cemented house. Inquire more about this from your supplier.
Take Away
The beautiful thing about retractable awnings is that you can use your arm to adjust them depending on the movement of the sun. However, you need to ensure the awning is in the correct size and serves the purpose you intend it to.