Be Prepared: What Do You Need in Your Home Improvement Toolbox?
by Guest on Jan 19, 2010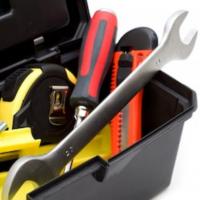 There are several tools and supplies that every do-it-yourselfer should have in their home improvement toolbox. By keeping some basic tools handy, you'll be prepared to not only do repairs around the house but work on some home improvement projects as well.
Hand Tools
Of course, some of the more obvious tools that everybody needs are standard hand tools. Have a good assortment of straight and Phillips screwdrivers in your toolbox, and include an Allen wrench set as well. You'll need a few pairs of pliers, including a set of needle-nose pliers and locking pliers. Include an adjustable wrench, a set of combination wrenches, and a socket set. Other essential hand tools include a claw hammer, a ball peen hammer, and a wooden mallet. A power drill and a good set of drill bits are also essential items. Three larger hand tools that often come in handy when nothing else can do the job are a pipe wrench, a pick, and a sledgehammer.
Cutting Tools
You'll need a good assortment of tools designed to cut things. Although sometimes people try to make do with just one or two saws, it can help you do a good and safe job if you have the proper saw for the task. Some types of saws that are good to have on hand include a jigsaw, coping saw, bow saw, hacksaw, circular saw, and crosscut saw. A good utility knife and a pair of tin snips are also important.
Safety Gear
Safety is very important when working on home repair and improvement projects. Make sure you have a flashlight, ear muffs or earplugs, a dust mask or respirator, and safety goggles or glasses. You also should have a safe stepstool, stepladder, extension cords that are in good condition, various types of ropes, clamps, and work lights. A machinist vice is also a handy item to have in the workshop, which can be used to keep your work secure and safe.
Tools for Measuring
Taking accurate measurements is also important, so make sure to have a tape measure, rulers, a yardstick, and a combination square. You should also have a level and a chalk line. There are other types of tools that are handy to have, such as a pry bar, a set of wood chisels, a metal file, putty knives, and a countersink nail set and center punch.
Nails and Fasteners
Besides tools, you'll also need some supplies in your toolbox. You'll want to have a good supply of different types of nails and screws, as well as other types of fasteners, nuts, bolts, and washers. Keep several grades of sandpaper handy, as well as a bottle of wood glue and any other types of adhesive that you use frequently for your projects, and a can of spray lubricant.
Specialty Tools
There are other types of tools that can be added to the home toolbox, especially if you normally do more specialized home improvement projects such as plumbing or electrical work. If you do these types of improvements, it can be convenient to keep these kinds of tools and supplies in a separate toolbox, to make it easy to grab just the tools you need for the job.