How to Distantly Kill Wasps in the Attic
by Guest on Nov 19, 2012

I want to share this small tool that we made to kill a wasps nest in our attic. Quick, dirt and simple, but it worked:
The Problem
Wasp nest. But not just a simple one. It was in our attic. Wasps enter through a hole above one of the beams and are too far away to be reached from the windows. On top of that this is where our bedroom is and we were able to hear the zoom late in the evening which was irritating to say at least.
We tried to catch and kill them with wasp traps like these but it did not work at all. Not a single wasp went inside the trap. We tried using fish to attract them, but same effect.
So we had to kill them with insect repellent but how to reach the hole?
The Solution
I got a 3 m / 10ft long lath and a bottle of insect repellent. Tied the bottle to the lath, used some newspapers to ensure it won't slide.
Using an awl I made two holes in the both sides of cap of the repellent, and sweeped a long piece or sisal through it such that the sisal would go over the button that you have to press to start spraying the repellent.
Used some scotch tape to fix the sisal to the button.
So here is how all looked then: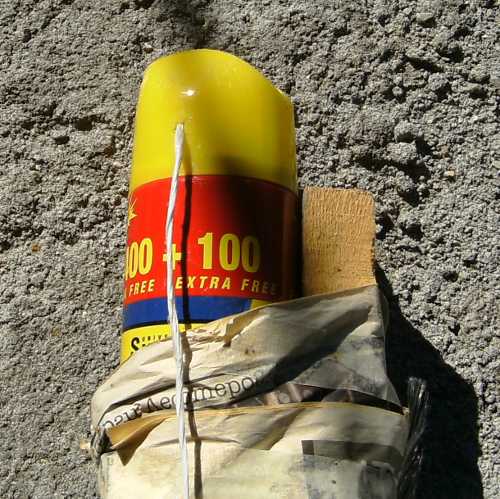 And here is how it all worked:
<a data-cke-saved-href="Wasps no more. We used the same tactic to fill the hole with foam so no new wasps can come.