Step-by-Step Guide to Making a Wooden Kitchen Bar Stool
by Guest on May 15, 2012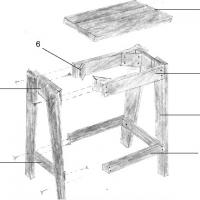 It's handy to have a couple of wooden bar stools in your kitchen, for sitting on whilst preparing food, reading a magazine while enjoying a cup of coffee, or for relaxing on whilst entertaining guests. The backless bar stool here has a simple and versatile design and can be finished in whatever color you choose to match your kitchen's décor.
What You Will Need
Materials:
Wood: 90 x 19mm, 1 x 4.2m length
70 x 19mm, 1 x 1.8m length
40 x 19mm, 1 x 1.8m length
Wood Glue
Screws
Nails
Tools:
Sliding Bevel
Protractor
Saw
Drill
Hammer
Tape Measure
Pencil
Plane
The wood will be cut to make the following parts, as shown on the diagram:

90 x 19mm
Legs (1) = 4 x 650mm lengths
Seat Slats (7) = 3 x 450mm lengths
70 x 19mm
Top Spreaders (2) = 2 x 230mm lengths
Top Rails (4) = 2 x 360mm lengths
Corner Blocks (6) = 4 x 100mm lengths
40 x 19mm
Bottom Spreaders (3) = 2 x 315mm lengths
Bottom Rails (5) = 2 x 360mm lengths
Instructions making your Bar Stool
Step 1 Cut the legs, giving each one a 5 degree splay. To do this, use the protractor to set your sliding bevel to 85 degrees. Use a pencil to mark the angle on your length of 90 x 19mm timber and cut along the line with a saw. Measure 630mm, mark the angle again and cut. Do this another 3 times until you have your 4 stool legs (1).
Step 2 On each leg, measure 45mm across the bottom and 400mm up the inside edge. Use your pencil to mark these points and then join them up. Cut along the pencil line to taper the legs.
Step 3 Use a plane to smooth off the cut edges. Remember to always work in the direction of the grain and plane downwards, taking thin shavings.
Step 4 Cut the top and bottom spreaders (2 and 3). The bottom side rails need to follow the splay of the legs, so each bottom spreader needs to have a 5-degree angle cut at each end. Lay one pair of legs on your work surface. Put pencil marks 19mm in from the top outside edge of each leg, and 19mm in from the outer edge, 150mm up from the bottom. Use high strength wood glue to glue and then screw the top and bottom spreaders in place, making sure you leave space for the rails.
Step 5 Cut the top and bottom rails (4 and 5). Glue and nail them to the spaces left on the legs in the previous step. Secure with screws from the legs into the end of each rail. Stand the stool upright to check its level and square, and make any necessary adjustments if you need to.
Step 6 Make the 4 corner blocks (6), cutting a 45 degree miter cut at each end. Screw them into the corners of the top spreaders and rails.
Step 7 Cut the 3 slats (7) to make the seat. Remove the sharp outside corners by cutting a small 45 degree triangle off each one. Glue and nail the slats to the stool, making sure you put the middle slat in position first.
Step 8 Use glued in dowelling to plug the counter bored screw holes. Cut the dowelling so it's flush with the wood.
Step 9 Sand all surfaces to get a smooth finish and then apply a coat of a hardwearing polyurethane coating to give your stool a protective finish.
About The Author
Dan O'Sullivan is a freelance writer with an interest in woodworking projects. He is a contributor to www.GetBarStools.com, where you can find a selection of discount bar stools as well as helpful advice on choosing kitchen bar stools for your home.