Wood Sanding Tips for a Smooth Finish
by Guest on Feb 8, 2011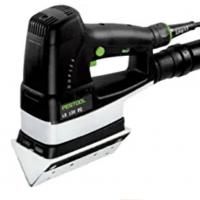 For projects such as staining or refinishing wood furniture, a quality sanding job will significantly contribute to the workmanship of the final piece. To achieve the best results, wood should be as smooth as possible before paint or stain is applied. Adhering to these sanding best practices will put you on track to achieve a polished wood finish:
Sand with, not against the grain
Sanding against the grain can create deep scratches that are difficult to remove. Though experienced woodworkers may sand against the grain in certain circumstances, they typically finish by sanding with the grain to remove imperfections. As a general rule, always sand in the same direction as the wood grain.
Use progressively finer sandpaper
The appropriate sandpaper to use will depend on the project at hand, but in general, larger imperfections like scratches and dings should be sanded out with coarser sandpaper before final touches are made. Scratches left by the coarse sandpaper are to be expected and are acceptable as long as they are uniform across the piece. These scratches will be smoothed when you follow up with finer grit sandpaper.
Don't rush
Since a good sanding job can be tedious, you may feel the temptation to rush through it. Though sanding may not seem immediately gratifying, any imperfections that are missed during sanding can show through in the final piece. Taking the time to do the job right will pay off with a beautiful smooth finish that serves as a uniform foundation for stain or paint.
There are many hand and power tools on the market to make sanding easier. The tools that will work best for your application depend on the magnitude of your project and what you are trying to accomplish. Electric sanders can make sanding large areas much quicker than sanding by hand. Innovative new sanders such as the linear sander Duplex LS 130 EQ from Festool tools reduce the manual labor that is traditionally involved with sanding intricate details like tongue and groove joints.
About the Author: Maria Polidoro is the Founder of Ace Tool Online. Ace Tool is an authorized distributor for virtually all major power tool manufacturers and houses a full power tool service center. Please visit Ace Tool Online for Milwaukee cordless tools, Amana router bits and saws, Festool saws, Occidental leather tool belts and much more.