Fallacy of a Green Thumb
by Dan Eskelson on Apr 30, 2012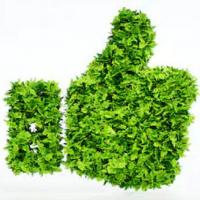 Some of our clients have expressed a desire to grow their vegetable or flower gardens, but believe they don't have a "green thumb." This is nonsense - a green thumb is learned, just like other skills in life. The beginner's learning process may produce a few failures, but each new lesson builds the knowledge required for success. The joy and satisfaction of producing your own food or beauty are well worth the effort to get started. (actually, a "green" thumb should be brown - go to work and get all your fingers dirty!)
The benefits of gardening are enormous; aside from personal satisfaction, gentle exercise helps to keep the body young. Walking, bending, kneeling, and stretching in the fresh air is not only good for us but necessary in our sedentary society. The sometimes vigorous operations of soil preparation are excellent aerobic exercises. As a group, farmers suffer fewer serious illnesses than the rest of society.
Mental health is improved also - the hectic, often frustrating pace of our daily lives can be tempered with the slower, rhythmic patterns of garden chores. The lessons learned from observing and working with nature help to relieve the fears and anxieties of modern society. It is interesting to note that gardening has become a successful tool for the treatment of seriously ill mental patients.
Another major benefit of growing your own is quality; I challenge any supermarket to sell produce that tastes as good as what we grow in our home garden. We've noticed that our children readily consume homegrown vegetables but often leave much of the store bought produce for the compost pile. The healthy exercise of gardening yields the healthy fiber, beta-carotene, and minerals necessary for the body...or for the ornamental gardener, the beauty, fragrance, and tranquility necessary for the soul.
The best advice for the novice gardener is to start small; a well-prepared small garden will yield plenty of produce or ornamental beauty. As skills and confidence grow, gradually increase the garden's size to fit your time and energy commitments.
Also, read one or two basic gardening books, but don't get overwhelmed with the intellectual process - you will learn far more working with your soil and plants. Consult with successful gardeners in your neighborhood; they have learned the varieties and techniques which work in that specific microclimate. Most gardeners are very happy to share knowledge.
Remember to take the time for casual observation. Much can be learned from watching the progress of your garden over the months. Each specific site has its unique characteristics and requires the gardener to adapt accordingly.
Good luck with your gardening season! Be kind to the land, the plants, and yourself.