Wallpaper Versus Paint: Which is the Better Choice for Your New Home?
by Sam Smith on Aug 29, 2018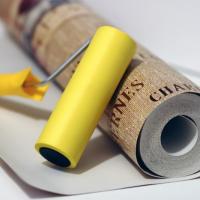 If you're in the process of decorating your new home and learning how to properly make it your own, you'll be faced with the choice of using wallpaper or paint on your walls. There are many benefits attached to each of these options, and your final choice is likely to be based on a range of factors. Though furniture has a big role to play in determining the character of your home, you mustn't underestimate the influence that the color and designs on your walls have in shaping its ambiance. You will need to look at your walls every single day, so it's always worth taking the time to carefully consider your options so you can avoid making a mistake you come to bitterly regret.
The pros and cons of wallpaper
One of the reasons that so many people opt for wallpaper over paint is that can be incredibly durable and long-lasting. If you choose thick, high-quality wallpaper, it can last for around a decade and a half. However, if you like to refresh your space every few years, the paint might be a better option. Quality wallpaper can withstand scrapes and bumps and maybe the right option if you have pets or young children. There are many designs and styles to choose from, which means you shouldn't struggle to find something suitable no matter what your tastes are. Stripes can also make ceilings look bigger and rooms wider. You can also use wallpaper to hide defects in your walls. However, it doesn't handle moisture as well as paint, which makes it an unsuitable choice for bathrooms and kitchens, where it can start to peel rather quickly. It will take you longer to apply wallpaper, and the process of replacing it is generally much more time-consuming than adding a new lick of paint.
Advantages and disadvantages of paint
Paint tends to be much cheaper than wallpaper and can be applied with ease. It doesn't take a substantial amount of time to apply paint to walls, and you have many options available to you in terms of color and shine. You can also apply paint to walls in high-moisture rooms. If you make a mistake, it will normally be much easier to rectify than when you apply wallpaper erratically. On the downside, wallpaper can easily be scraped, hit, and therefore chipped. You may find yourself regularly touching up your paint to keep your walls looking great, and the whole process of adding paint can be messy. Keep in mind that some paints can be hazardous to health due to the compounds in them. Paintable wallpapers have proved to be the ideals solution for many painters.
Make the right choice
Once you learn all about the various pros and cons attached to paint versus wallpaper, you can make the right decision for your specific needs. Affordable paints and wallpapers are easily available, with many people opting for a mix of painted and papered walls to create a distinctive and visually impressive effect.