Putting Vinyl Siding on Gables
by Guest on Feb 15, 2010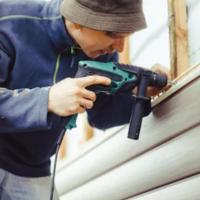 Step 1
To install vinyl siding on dormers, put the vinyl J Mold on the dormer's angled side. This should be by the roofline at the sliding area. Put a preformed vinyl on the dormer's front. This should be below the eave to the roofline.
Step 2
Put a vinyl piece any place on the dormer's side. Make certain the lower inside corner touches the roof. Use the level to level it. Nail it in place.
Step 3
Place another vinyl piece on the roof slant. It should conceal the tacked piece. Hold it and draw at the mark where it passed the first vinyl piece.
Step 4
Remove the vinyl pieces. Slice along the lines using the tin snips. Put this on a vinyl piece. When you install vinyl siding, remember this will be your first piece. Illustrate another line by the angled cut.
Slice the piece and install it. You can use the nail strip over the top to fasten it. Nail it but don't hit the nail flush. Just leave the nail 1/8" from the wall.
Step 5
Repeat the cutting and installing procedure for the other vinyl pieces. The succeeding pieces will be bigger but the angle will not change. Trim the uppermost part and put it in the J Mold.
Take care to secure yourself when you install vinyl siding on the roof. Do not attempt this if you think the roof is too steep.