Plug-in or Cordless: Pick the Right Drill for You
by Guest Post on May 15, 2012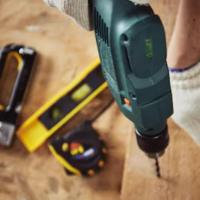 For the average Do-It-Yourselfer, we can't imagine a toolbox without a drill. Unlike hammers, drills attach things with less noise and less effort. When you are ready to start using power tools, please do consider learning more about power tool safety first. Your first decision is whether to buy a corded electric drill (which plugs into an outlet) or one of the new cordless drills powered by a rechargeable battery pack. Learn the advantages of each type of power drill and what is the best fit for you.
Cordless Drill Advantages
Cordless drills are more convenient because they aren't tethered to a power cord. You can use them anywhere, even outdoors, without having to hassle with a long extension cord. For drilling holes and driving screws on fences, garden sheds, treehouses, and the like, cordless drills simply can't be beaten. It's also more convenient to grab a cordless drill for most jobs around the house, garage, or workshop. When the battery's low, you just pop it in the charger that comes with the drill.
Tool manufacturers have put their best engineering into today's cordless drills, and they're a pleasure to use. Most cordless drills have a keyless chuck that makes changing bits a breeze. Multiposition clutches, which disengage the motor from the chuck at a preset torque (so you don't sink the screw too deep) make cordless drills better than corded drills for driving screws of all sorts.
Cordless drills come in a range of sizes from lightweight, low-powered 7.2-volt models up to 24-volt heavyweights with power to spare. Lower-powered models are fine for drilling small-diameter holes (3/8 inch or smaller) and driving small to medium-size screws, but they don't produce the torque for much more than that.
For more demanding jobs, you need a more powerful cordless drill (12 volts or more). These match the power of a plug-in drill and can handle almost any job. But like all cordless drills, they have a limited run time you have to recharge the battery periodically. If you have two batteries, though, you can keep working with one while the other is charging.
Plug-In Drill Advantages
Corded drills have an unlimited power supply (assuming you pay your electric bill), and they never run out of juice. This gives them an advantage over cordless drills for high-torque jobs that would rapidly drain a cordless drill's battery: drilling holes in landscape timbers, driving dozens of decking screws, or boring deep, large-diameter holes with a hole saw. Likewise, continuous run-time jobs like sanding with a disc or stripping old paint with a wire-brush wheel are also better suited to a corded drill. Any drill can bore the occasional hole in masonry with a carbide-tipped masonry bit, but a corded drill won't run out of steam if you need to drill more than a few holes at a time. For serious masonry drilling, your best choice is a hammer drill, which adds a jackhammer motion to the bit's rotating action. There are cordless hammer drills, but the corded version is a better choice if you have to drill lots of holes.
The Bottom Line
Of course, you could buy one of each, say a 9.6-volt cordless and a 3/8-inch variable-speed corded drill. You'll be ready for anything.
If you can afford only one drill, though, go for a 12-volt cordless with two battery packs. It's all the drill most people need, and it's much more convenient than a plug-in model.