Your Quick Guide to Patching up a Vinyl Swimming Pool Liner
by Frank Myrland on Oct 31, 2017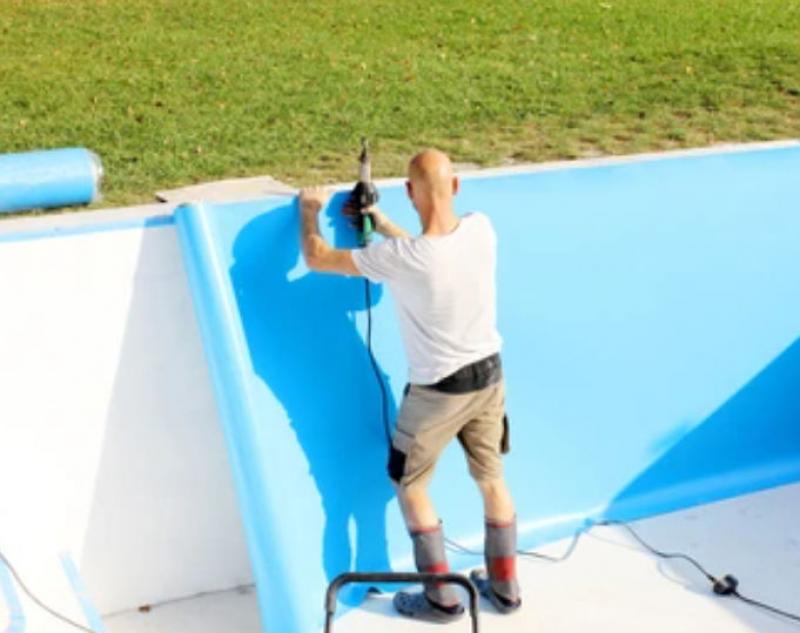 Vinyl pool liners are very popular for their elegant look, their flexibility and the fact that repairs are generally quite affordable and simple.
If summer swimming fun gets out of hand, it can sometimes result in a big and unfriendly rip in your vinyl pool liner. Cuts in the liner can also be the result of regular wear and tear, or sharp debris or materials that fell into the pool.
Regardless of the cause of the rip, you will need to address the problem quickly so that it doesn't grow into an even bigger repair job. If left untouched, even a small tear can leak water and cause damage to the surrounding area - not to mention the risk of expanding the tear into a larger hole.
Here's what you should do to help solve this problem:
1. Inspect your pool often
How can you expect to repair a hole if you don't know it's there? Making time in your daily or weekly schedule to do a quick inspection of the pool will catch the problem early. Take extra close notice of the pool corners or other areas that are more exposed to the sunlight or affected by rough play.
2. Consult with your local pool contractor to get your vinyl pool liner patch kit
Homemade improvisations aren't likely to provide a long-lasting solution here. Rather than fumbling through a fix that may fall apart later, purchase a proper repair kit from your local pool store. These kits are designed especially for the tough, watery environment they need to be used in.
3. Locate the rip and prepare the area
You will not need to drain your pool when patching it. If the problem area is underwater, you will need to make sure to purchase a specially-made underwater patch, or else it won't last. Make sure you clearly identify the entire problem area. Clean the area around the tear thoroughly, since it will need to be clean for the patch kit's adhesive to work.
4. Cut and glue the patch over the tear
Measure and cut a patch several inches larger than the tear. By making the patch larger than the problem area, you are less likely to have to return and fix the patch. Spread adhesive over the inside of the patch, making sure it is evenly and completed coated, and then attach it over the tear.
Use your hand to smooth out the air bubbles from under the patch. If the patch is underwater, make sure you smooth out all the water bubbles. Hold the patch in place for a few minutes to help it take hold.
5. Wait for the patch to dry
Consult your patch kit to see how long you need to wait for the glue to adhere. You won't want to jump into the pool for a quick swim until the patch is fully attached.
That's all there is to it! By rolling up your sleeves and putting a bit of effort into it, you can quickly patch up your vinyl pool liner in no time at all! Or, if you aren't quite so adventurous, remember that you can always call in a pool contractor to provide the repair service for you.