Three Things to Consider When Planning a Swimming Pool Installation
by Boris Dzhingarov on May 18, 2016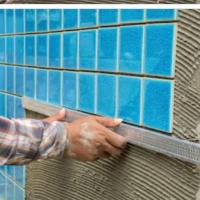 Building a swimming pool in your backyard or garden can lead to a huge amount of excitement and fun. If you're making plans to have a swimming pool installed, it's not unusual to be puzzled or confused when deciding which considerations to make before you proceed. After all, building a swimming pool is a huge project and investment, and with all of the different options available it can often be difficult to decide which is the best course of action to take to make sure that your new swimming pool serves all of the functions that you need and lasts as long as possible.
Upkeep and Care
When deciding to install a swimming pool in your backyard or garden, the first thing that you will need to consider is whether or not you will be able to afford and manage the upkeep and care required to keep it in the best condition. Whilst choosing materials for your pool, it's essential to have a good idea of which ones are the easiest to maintain and those which require a lot of cleaning and maintenance to make an informed decision based on how much future work you are able and prepared to do. You should also take into consideration any tools that you will need to buy such as a hydrostatic test pump for water purification.
Shape and Size
When building a swimming pool at your home, the shape and size of your pool are one of the most important features to take into consideration. If you are hoping to have a swimming pool to exercise, for example, you should consider an oblong pool in which you can swim lengths. On the other hand, those looking to have a swimming pool installed for recreation and fun may wish to choose a circular, oval, or even a figure-of-eight style pool. When it comes to choosing your pool's shape and size, you should also take a good look at the dimensions of your outdoor space and decide exactly how much of it you're willing for the pool to take up.
Materials
Choosing materials for your new swimming pool should be one of the most important considerations that you make during the planning stage. Cost of installation, versatility, and upkeep should all be given a lot of thought before you make a final decision on the type of material that you wish to use for your swimming pool. Take for example fiberglass, which requires very little maintenance once installed, but comes at a rather high price. On the other hand, if you're looking to get creative with the shape, size, and design of your pool concrete may be the best choice for you, but you will need to be prepared for the future maintenance work it requires.
Installing a swimming pool in your backyard or garden can provide you with years of entertainment and fun and even add value to your home, so make sure that you choose wisely!