Residual Chlorine Analyzer Applications for Pools
by Guest Post on Jun 6, 2011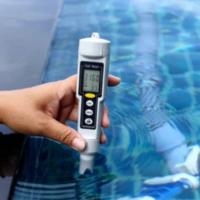 Chlorine meters are used in many applications requiring the measurement of residual chlorine concentration for chlorine monitoring or residual chlorine dosing control.
A residual chlorine analyzer or meter has various applications including:
Continuous chlorine monitoring
Water treatment plant residual chlorine control
Secondary chlorination free chlorine control
Distribution monitoring for total residual chlorine
Cooling tower chlorine monitoring and control
Pasteuriser chlorine dosing control
Seawater chlorination control
Chlorine in seawater monitor
The membraned amperometric chlorine sensor is enhanced with a third, reference, electrode which eliminates zero drift. pH correction is often not required at all. (NB. These chlorine sensors are often known as polarographic chlorine sensors although this is a misuse of the word polarographic).
The chlorine sensor used by the Residual Total Chlorine Monitors and the Residual Free Chlorine Monitors is both largely pH independent meaning that both chlorine analyzers are bufferless. They both utilize amperometric chlorine sensors and both show remarkable sensitivity and stability. For those making a chlorine measurement at high pH (>pH 8.5) on variable pH water, it is possible to provide pH compensation from either a pH sensor connected to the chlorine analyzer or from an external pH meter.
The chlorine sensors work by separating the electrodes that perform the chlorine measurement from the sample, by a membrane. This membrane allows the free residual chlorine (HOCl and OCl-) or the Total Residual Chlorine (HOCl and OCl- plus chloramines) through the membrane. Inside the sensor, the residual chlorine meets the electrolyte which is at a low pH. This converts the majority of the OCl- to HOCl. The HOCl is reduced at the gold working electrode and the current generated is proportional to the Free Chlorine or Total Chlorine present, and the chlorine analyzer gives a reading in chlorine ppm or mg/l.
This technique is the most advanced method of continuous chlorine measurement and has many benefits for the user including a very stable chlorine measurement and better chlorine dosing control.
In addition to residual chlorine measurement, the free chlorine sensor determines the chlorine concentration, and the chlorine analyzer can control the chlorine dosing using a variety of control algorithms including PID control.
The Residual Chlorine Monitor is bufferless and reagent free, meaning it has a low total cost of ownership and with maintenance intervals at 3 or even 6 months, the HaloSense bufferless Chlorine Monitor is fast becoming the instrument of choice for the engineer who wants the best chlorine monitor at the best price.
The HaloSense Free and Total Residual Chlorine Analyzers are equipped with process control options, data logging, relay outputs, and serial comms (TCP, Ethernet, ModBus are available now with Profibus available soon). Remote Access to the chlorine monitors (including remote access to all control options) is available via the internet, and via a LAN. In fact, the HaloSense range of chlorine analyzer products has all the options you could want in a Chlorine Analyzer whilst maintaining a low cost and great value for money.