French Door Refrigerators: More Than Classy Kitchen Appliances
by Guest on Mar 29, 2011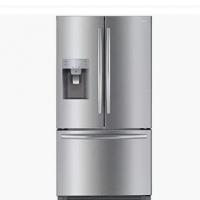 French door refrigerators are the modern answer to the ubiquitous food storage appliance. There was a time when the side-by-side refrigerator was the kitchen must have. Newly unveiled in the late sixties, they pleased the aesthetically inclined who were tired of the "icebox" look that had changed minimally in the last century. By the twentieth century, however, the side-by-side was becoming a tired trend, and many owners were bored with the design that proved to be cumbersome in daily use. They needed something lovely but completely food storage friendly; enter French door refrigerators.

French door refrigerators trickled onto the appliance market in the nineties, and are now offered by nearly every major appliance manufacturer. In recent years, the popularity of French door refrigerators has soared, and for good reason. French door refrigerators combine great design with excellent usability. The French door refrigerator's double doors operate like a pair of French doors in a home, equally sized and used to access the large refrigeration "room"—unlike a side-by-side refrigerator that houses refrigeration behind one long door and the freezer behind the other. The French door refrigerator's freezer compartment is accessed by a single door the width of the refrigerator beneath the double doors.

Common complaints about side-by-side or even standard refrigerators relate to accessibility and storage. It's not difficult to lose a carton of blueberry yogurt in the back of a fridge or have trouble stuffing a twenty-pound turkey in amongst the week's shopping. French door refrigerators, on the other hand, have an extensive amount of space within their double doors. Even though its cubic feet may match that of your bisque beauty, it's the smart layout of that interior refrigeration space and its shelves, cubbies, and drawers that make the difference. Additionally, with the refrigeration compartment at eye level, there's no stooping or squatting to find foods or clean shelves. The freezer of the French door model wasn't overlooked in the design phase; most have multiple drawers of varying depths to make the organization of frozen foods simple.

It isn't just enough that a refrigerator is practical; it has to be pretty too. Ideally, you want your refrigerator to be a workhorse when it comes to function and beauty when it comes to form. French door refrigerators offer the best of both worlds; ease of use and classic styling updated for this century. French door refrigerators are easily at home in a suburban Colonial kitchen or a Manhattan penthouse. Makers provide an extensive selection of colors and finishes for their French door refrigerators, from the classic white, almond, and black, to stainless steel and titanium. You can also opt to select a wood finish for your French door refrigerator that matches that of your kitchen cabinetry.

French door refrigerators aren't a fad; their quality of design and handsome good looks are capable of taking anything a family of six can dish out, while still looking impeccable for a late-night dinner party with friends. The side-by-side may have been the new kid once, but French door refrigerators are a smart appliance choice that is here to stay.